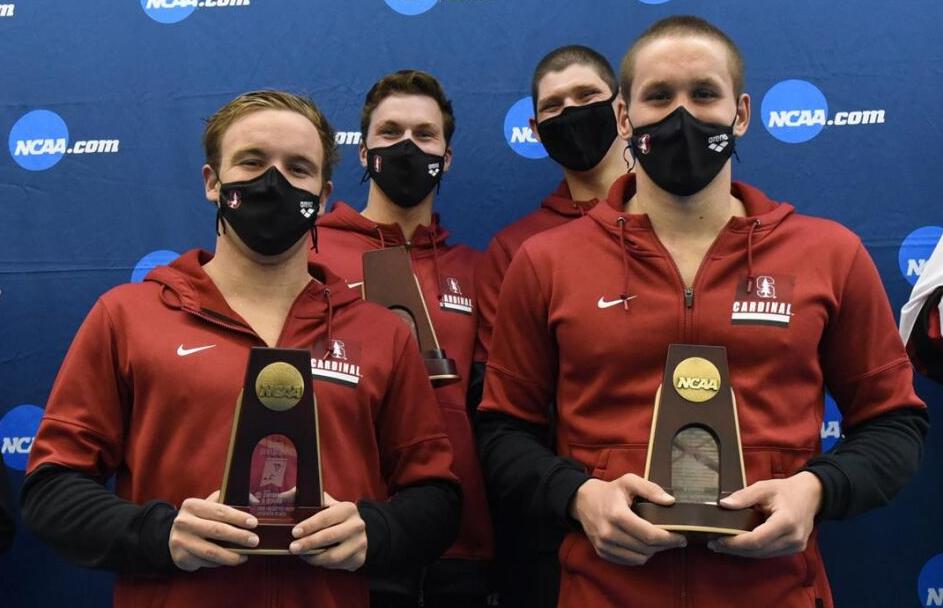 This week's U.S. Olympic swimming trials are the culmination of a chaotic freshman year at Stanford for Summerfield's Preston Forst. But the former Northern Guilford standout has not only survived, he's thrived.
"It's been really interesting, lots of ups and downs for sure, but nothing that I would not want," Forst said before traveling from California to Omaha, Neb., on Thursday for the trials. "It's been so much fun being with the team. This group is super close."
That bond helped Forst get through a school year that began with the Cardinal athletics program under what he called "maybe the most restrictive" COVID-19 protocols in the country in Santa Clara County, Calif. But it could have been worse.
"Thankfully, because we were not a contact sport, we didn't have quite as strict regulations as basketball and football did," Forst said. "We were able to train here, just with a lot of restrictions. We weren't able to use the locker room for the first few months. We had to come to the pool already changed, and when it's under 40 degrees and 6 in the morning it's kind of tough to do that."
But that didn't stop Forst from earning first-team All-America status in one event (800-meter freestyle relay) and second-team status in two others (200 free, 400 free relay) at the NCAA championships. He already ranks in the top 10 in the history of the storied Stanford program in three events: the 200 free (4th, 1 minute, 32.80 seconds), the 500 free (6th, 4:13.81) and the 200 butterfly (10th, 1:42.83).
He did all that while fulfilling his academic obligations and while isolated from his family more than 2,700 miles from Summerfield. So much for homesickness.
"The big issue was that if you left you couldn't come back and train for 10 days," Forst said, explaining the COVID-19 protocols that were in effect for Stanford swimmers. "Say you went home for Christmas. When you came back, you couldn't train for 10 days. So, I ended up never leaving. I've been here since September."
The Stanford experience
Being immersed in swimming and classes at one of the nation's elite universities had its benefits for the 2018 HSXtra.com Swimmer of the Year.
"Stanford is so great in so many ways," Forst said. "My peers here are some of the most incredibly smart people, non-athletes, some of the people I talk to in my classes. It's just insane some of the things they've accomplished."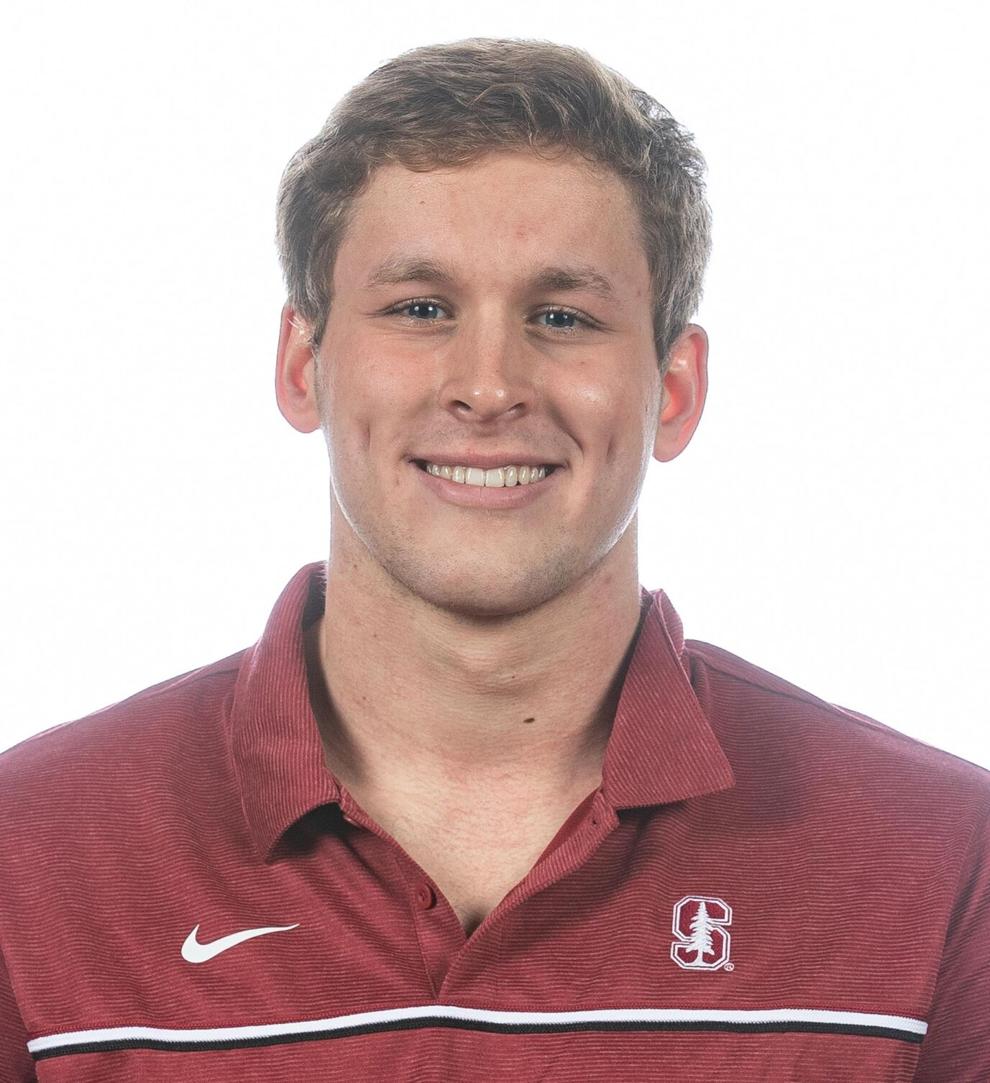 Forst doesn't have to declare a major until the end of his sophomore year, but he's strongly considering two that are unique to Stanford.
One is Management Science and Engineering, "which is an engineering major with all of the engineering core," he says, "but it also focuses on economics and computer science. It's kind of a business degree mixed with an engineering degree."
The other is Symbolic Systems, which Forst describes as "a computer science and philosophy major. Their focus is how computers and people interact and the morality of creating products and tech. The founder of Snapchat (Stanford alumnus Evan Spiegel) is a Symbolic Systems major, so that sounds pretty cool."
The Cardinal's swimming alumni, which includes Southeast Guilford graduate Eugene Godsoe, are as accomplished as its non-athletes.
"Some of them will come and have talks with our team via Zoom," Forst said. "That's always great when you've an Olympic gold medalist or a former world-record holder who's now a doctor come and talk with you. I've also had individual talks with some of the alumni and they're also great."
After his ninth-place finish at the NCAA championships in the 200 free, Forst said 2008 Olympic gold medalist Ben Wildman-Tobriner emailed him to say, " 'Nice swim, Preston. It was great to see you do so well.' That's great when you have people like that behind you."
Trials and tribulations
The 200 free is one of the three events in which Forst will compete at the Olympic trials. His first three days at the championships will be busy, with prelims in the 400 free today, the 200 free Monday and the 200 fly Tuesday.
Forst qualified directly for Wave II of the trials based on his times this year. Wave I of the trials ended last week, with the top two finishers in each event joining those already qualified in Wave II this week.
Which event is his best chance to get out of the preliminaries and advance to a second swim?
"If I had to say, it would be either the 200 or 400 free," Forst said. "It might be a tossup between those two as to which I'll be more competitive in, but there are semifinals in the 200 free and there are not in the 400 free. So, there's 16 spots for a second swim (in the 200 free) and only eight for a second swim in the 400 free. I would think the 200 free would be if just for that reason."
Forst won't be the only Guilford County athlete competing at the Olympic trials in Omaha. Another college freshman, Page alum Reid Mikuta, placed second in Wave I in the 100 breaststroke, with a time of 1:01.88. In Wave II, the Auburn swimmer will compete in the preliminaries today. The semifinals of Mikuta's event are tonight and the final is Monday night.
Page alumna McKenzie Campbell also competed in Wave I of the trials. The Georgia Tech sophomore finished 18th in the 200 fly with a time of 2:17.18. Campbell would've had to be quicker than 2:13.20 to make Wave II.
At the U.S. diving trials in Indianapolis, Northwest Guilford's Noah Zawadzki failed to advance past the preliminary on the 3-meter springboard. Zawadzki, a junior at Virginia Tech, was 27th with a score of 278.15.
Looking ahead
As difficult as the coronavirus pandemic made Forst's first year at Stanford, it also put him in a better position for his first Olympic trials by delaying the competition for a year leading into the postponed Summer Games in Tokyo.
"Absolutely," Forst said. "I would've been set up to perform pretty well last year at trials before they split it into Wave I and Wave II and I only had the 200 fly cut, but I'm worlds more prepared now. Before, my goal would have just been to go a good time and have a good experience, but now my goal with this whole year of preparation training with some of the best athletes in the country is to get a second swim. It will be pretty tough, but definitely doable for me if I swim well and don't crack under the pressure."
Being in three events at the trials also prepares Forst for the rest of his Stanford career and for the 2024 Olympic trials. He's already been in the pool with Florida's Kieran Smith, the fastest 500 free swimmer in history, for a heat at the NCAA championships.
"Swimming in an Olympic trials where you're going to be competitive and still swimming with the biggest of the names like Ryan Lochte and Caeleb Dressel and such will also give me great confidence and set you up for success in your next quad," Forst said.
Until then, he'll be grinding with the rest of his Stanford teammates and working toward his undergraduate degree.
"Every single person eligible for Olympic trials on Stanford's (men's) team, all the domestic swimmers still swimming here, qualified for either Wave I or Wave II" at the trials, Forst said. "We're all working toward the next step. It's great to be a part of that, and it definitely brings my game to the next level."
Contact Joe Sirera at 336-373-7034, and follow @JoeSireraSports on Twitter.