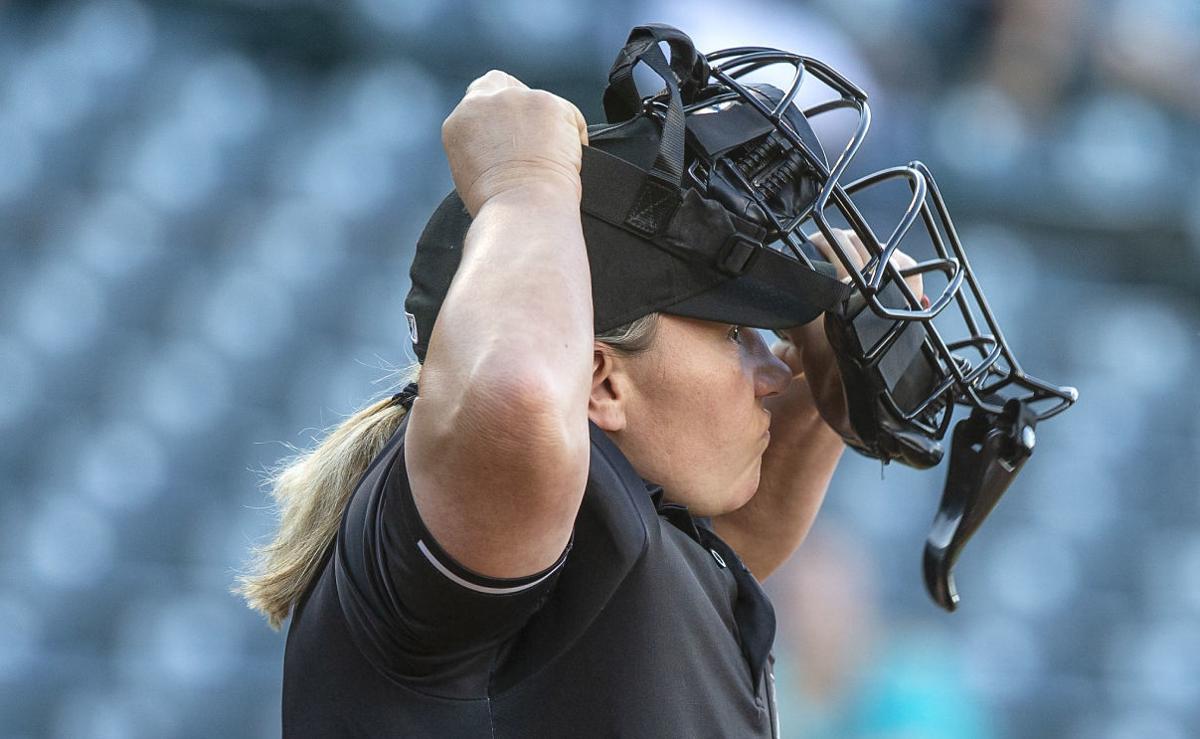 GREENSBORO — The blond ponytail sticking out the back of the short-billed, dark blue cap is a dead giveaway.
Otherwise, behind the mask and protective gear, Jen Pawol looks like any other home plate umpire in the South Atlantic League.
But Pawol is not like any other ump. She's a woman in what is still very much a man's world, just the seventh female umpire to work in any league affiliated with Major League Baseball and one of only two in the minor leagues today.
She is the first female umpire to work a Greensboro Grasshoppers game since the downtown ballpark opened 14 years ago. The Hoppers saw her for the first time earlier this year during a four-game series in Charleston, S.C.
"She's good," Hoppers manager Miguel Pérez said. "We had a discrepancy down there, and it was normal. I approached her when I went to make a lineup change. We're not supposed to argue balls and strikes. I had a question, and that was a good time to ask it, respectfully. She actually said thanks for the way I did it, instead of yelling from the dugout. But I would've done it that way with any umpire."
Pawol is in her fourth season, her first in the Sally League. Umpires, like minor-league players, climb a ladder toward the majors, and she started in the Rookie-level Gulf Coast League in 2016.
Pawol works this season with Sean Cassidy in a two-umpire crew. They alternate games behind the plate and on the bases.
Pawol has the plate Saturday and Monday in Greensboro before moving on to the next series somewhere else.
"There's no difference," Pérez said. "If you respect the game, then I respect you. And Jen respects the game. Umpires are human beings. They're going to make mistakes, just like I make mistakes as a manager. We have the right to go out an argue plays if we don't like the call. It's how you do it, you know? And that's whether the umpire is male or female. I don't see a difference. I see an umpire."
Pawol took time during the day Thursday to answer a few questions …
Where did you grow up? How did you get into baseball?
I'm originally from New York, and I grew up playing boys' baseball in the Long Island Little League. Baseball was a passion for me from a very early age. I collected baseball cards as early as I can remember.
Later on, around the third grade, my parents encouraged me to move into softball. I played multiple sports growing up: downhill skiing, soccer, tennis, swimming and winter track. I always preferred baseball, but I was guided into softball to pursue more opportunities for a college scholarship because of my gender. Thinking back to those early years and those hard decisions, it brings out a deep appreciation for the opportunity today to work as a professional woman in men's baseball.
What drew you to this career? Was there a light-bulb moment when you decided to do it, or was it more gradual?
Umpiring became the next chapter of my athletic career when I was 29. I transitioned from catcher to umpire. I wanted to stay on the field and be a part of the game.
I had caught for the 2001 world champion USA Women's Baseball team and earned an NCAA Division I softball scholarship at Hofstra.
Umpiring requires a tremendous amount of athleticism and I enjoy that challenge. Umpiring also presents a different performance challenge than playing. Hitters can maintain a .300 batting average and be considered good, but umpires need to bat 1.000 on their calls. They can't miss any pitches or plays. The competitor in me really enjoys this challenge every day.
I also really enjoy working behind the plate. Umpiring is a lot like catching. I'm not afraid of getting hit by the ball. I was already used to seeing the strike zone from that end of the pitch. The more I umpired, the more fun it became. I love umpiring more than playing. I don't ever have to leave the field. I'm in the game from the first pitch to the last pitch.
 If you weren't an umpire, what would you be doing?
I would still be in the game. I own my own business called Evolve 2 Excellence (www.evolve2excellence.com). I train catchers, hitters and umpires in the off-season with private lessons, camps, clinics and online classes. I also enjoying doing educational speaking with school districts, organizations and conferences.
Umpires move up the ladder just like players. For an umpire, what's different about the Sally League as opposed to the Gulf Coast or New York-Penn Leagues?
My experience this season has been similar to my past three years in professional baseball. Off the field and behind the scenes, there is a lot of collaboration that goes into welcoming and preparing the co-ed umpire locker room. All of my past league presidents, MiLB umpire development director and supervisors have supported the collaborative efforts to ensure the privacy needed for my male partner and me to change and shower while also remaining a unified crew.
Many of the clubhouse attendants over the years have been proactive and offered women's toiletries in our umpire locker room. They have included a bottle of Dove women's body wash alongside the men's Irish Spring in the shower. It helps make me feel welcome and included. Some of the "clubbies" have gone above and beyond and provided women's shaving razors, shampoo/conditioner, deodorant and shaving gel. Their hospitality means a lot!
I mentioned this "team effort" from behind the scenes, because it allows my partner and me to have what we need as a crew to be ready to take the field. We can't prepare properly for our games without the basic essentials. We really appreciate everyone's enthusiasm with these details.
Where have you improved the most at your craft?
Our supervisors leave no rock unturned. They have shed light on my entire game to challenge me in every area of umpiring. I've worked hard to improve in every area to be the best umpire I can be out there every night, and then work on more the next day. Improving never ends for umpires. There's always more to learn and more to work on. Being an umpire is not the kind of job where you can hit cruise control.
 What's the lifestyle like? There's lots of driving and travel. The work is mostly nights and weekends. How do you handle the grind?
The umpire lifestyle is very attractive to me. I enjoy the travel and night games. Going to work every day on a baseball field is incredibly rewarding in and of itself. I enjoy seeing the different kinds of pitches, unique plays and plays at the plate. Every game is different from the one before.
To keep a positive mindset during the grind of a full-season Class A league, I attend group fitness classes in the morning. My partner, Sean Cassidy, and I also enjoy playing golf together. My friends and family make the effort to travel in for a game or two and spend time with me while I'm on the road.
How important is communication? Do you talk with catchers or hitters when you're working the plate?
Communication with my partner is critical. We make as much eye contact as possible. Some of the stadiums are too loud for verbal communication. We also use the required umpire-to-umpire hand signals. We are very supportive of one another on and off the field.
As far as talking with the catchers, I like to take warm-up pitches with them to find out what the pitcher throws: Does he have 12-to-6 curveball? Two-seam fastball or four-seam? Cutter? What am I looking at with this guy? There's not too many knuckleballers out there, but those are always fun to call.
With the hitters, they may ask if a pitch was on up or out, on something they swung at and missed or fouled off. Some of pitchers throw in the high 90s mph. The hitters will ask me if what they just swung at would have been a strike anyway. Was it a good pitch to swing at?
When calls are disputed, how do handle that? Has anyone ever crossed a line during an argument, saying something to you they might not say to a man? How have the fans been?
The men I work with on a daily basis are upbeat, positive and energetic. We all love baseball and are all trying to get a little better by tomorrow. Our passion for baseball and taking pride in our work on the field is the only way to earn respect on the field.
It doesn't matter what gender you are out there. Yes, there have been a few instances, over the past four seasons, where a manager or a player continued to argue a call with me. It did not matter what my gender was. They were upset at the umpire, who happened to be me, because they didn't like my call.
I let them have their say, I told them what I saw, they continued to argue, I told them we were going in circles, they continued, I warned them to stop, they still continued to argue, and then they were removed from the game. The arguments that have led to ejections have only been about the call.
There have been only nine female umpires in the history of affiliated baseball. Do you feel like a pioneer? Is there extra pressure on you simply because of your gender?
It is apparent to me how Title IX has been at work changing the way we think as a culture. Most of the men in baseball who have approached me to say something positive or welcoming have included references to their wife or daughter who also work in a leadership position in a male-dominated field.
Most parents of the student-athletes I work with in the off-season, expect their daughters and sons to attend college. This was not the way my parents grew up culturally.
My mother did not have softball offered to girls in her high school. She did not have the opportunities that I did to earn an athletic scholarship towards a higher level of education after high school. My dad was expected to attend college and begin a career. They both were expected to get married after they graduated high school to start a family. My mother was expected to stay home, raise the children and take care of running the home.
Today, pursuing higher education, balancing a family and maintaining a full-time career are common for women in our culture. For these reasons, I do not feel pressure because of my gender.
I have pursued a career in a field that offers an equal opportunity to those umpires who want to embark on this difficult journey through professional baseball. I only feel pressure to improve and get my next call right. An umpire is only as good as their next call.
Contact Jeff Mills at (336) 373-7024, and follow @JeffMillsNR on Twitter.