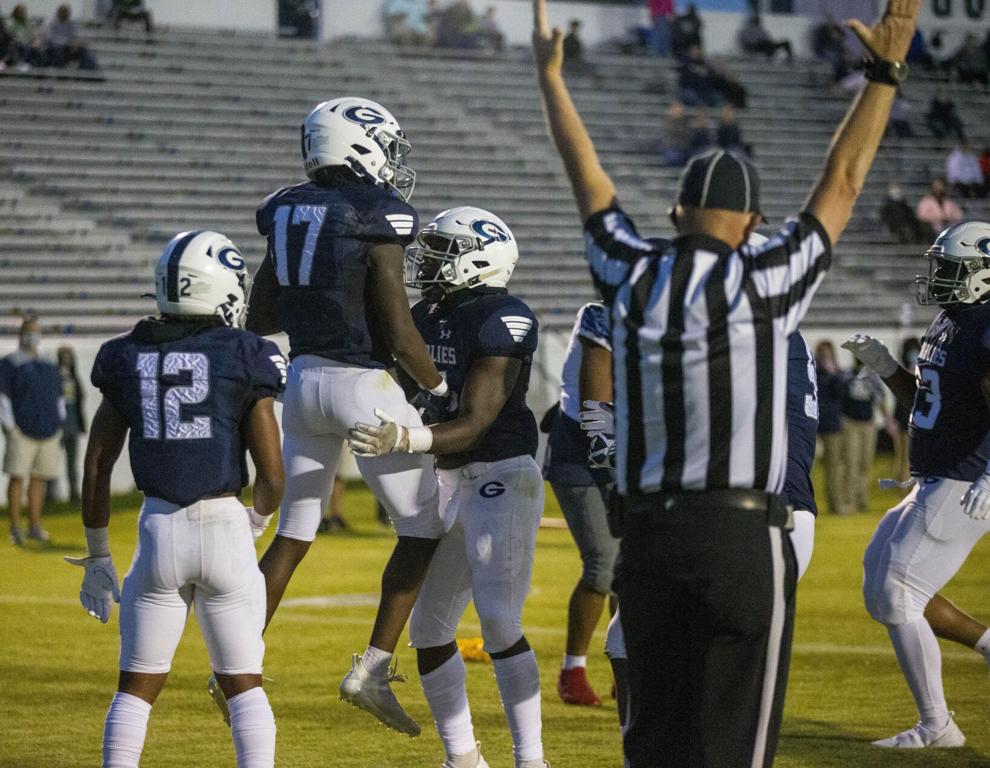 NCHSAA Class 4-A West first-round football playoff game Friday night.
Where
Jamieson Stadium, Greensboro.
Why the Whirlies won
It's one thing to force turnovers and another to capitalize on them. Leading 7-3 at halftime, Grimsley made East Forsyth pay for every mistake the Eagles made in the third quarter, scoring three touchdowns off three turnovers to go up 27-3.
"Those were three big plays, the two fumbles that led to scores, and the pick-six," coach Darryl Brown said. "Defensively, that's something we've done for the last couple of years, make big plays and create turnovers in big situations. Our guys did it again tonight."
Offensively, junior QB Alonza Barnett was high on throws for much of the night, but passed for two touchdowns and still hasn't thrown an interception since Week 1 of the season. Junior RB Jeiel Melton was the Whirlies' workhorse, rushing 27 times for 146 yards and a touchdown.
"It was hard yards most of the night," Brown said. "It's kind of like that with our run game a little bit. We don't necessarily just maul people up front. We're a little different this year. I thought Jeiel ran really hard for us and got a lot of tough yards."
Why the Eagles lost
Down just 7-3 and getting the ball to start the second half, East Forsyth had to be feeling pretty good about its chances of pulling an upset. But the Eagles turned over the ball on their first three possessions and Grimsley scored touchdowns off all three miscues to pull away.
"You can't make turnovers like that against great teams," coach Todd Willert said. "We played bad for six minutes."
When East Forsyth closed to 27-10 in the fourth quarter, a fourth turnover — albeit a disputed one on a fumble call — finished the Eagles and ended their dream of a third consecutive NCHSAA Class 4-A championship. The mistakes of youth and inexperience also reminded Willert of what might have been if the season had been played in the fall, before a number of his key players enrolled early in college.
"I'd like to play anybody in the state with our other eight guys that aren't here right now," the Eagles' coach said, "but it is what it is."
Stars
East Forsyth — QB Jaylen Raynor 13-of-23 passing, 160 yards, TD, INT, 12 rushes, 39 yards; WR Da'Mon Stokes 4 catches, 63 yards, TD; K Andrew Conrad 2 FGs.
Grimsley — QB Alonza Barnett 11-of-19 passing, 117 yards, 2 TDs; RB Jeiel Melton 27 carries, 146 yards, TD; DB Caleb Curtain pick-six.
The big plays
On East Forsyth's second play from scrimmage in the second half, the Eagles fumbled and Grimsley's Tamorye Thompson recovered at the visitors' 47-yard line. On the next play, Jeiel Melton ran around left end and broke loose for a touchdown.
The Whirlies' Cam Allison ripped the ball away from Jaquan Porter at the East 35 on the Eagles' second possession, and Grimsley scored five plays later. On the next East possession, Caleb Curtain picked off a Jaylen Raynor pass and returned it 68 yards for a TD.
"You can't fumble," Willert said, "and the pick-six obviously was a dagger in the heart."
Three things we learned
1. This was not prime Grimsley, but it was good enough. The Whirlies showed flashes of the team that rolled through the regular season unbeaten and held opponents to an average of 5.3 points per game, but were not consistent. Some breakdowns in blocking and coverage and issues with kickoffs will have to be addressed before Grimsley faces Durham Hillside in the second round of the playoffs.
2. The future is bright for East Forsyth. The dream of a third straight state championship basically ended when the season was pushed back to the spring because of COVID-19 and a number of key Eagles enrolled early in college. But a number of youngsters who would've been playing junior varsity football this year moved up to varsity and grew up quickly. QB Jaylen Raynor, RB Je'mon Smith, WR Da'Mon Stokes, RB/WR Tray Ingram, LB R.J. Brown and DB Isaiah Crowell provide a pretty good nucleus. "I'm excited for my youth," Willert said, "but it's about my seniors and how their career ended and some of the stuff that went on. It's just tough."
3. Penalties are costly in the playoffs. East Forsyth was flagged 12 times for 99 yards and a number of Eagles drives stalled because of penalties. Grimsley's only scoring drive of the first half was aided by two East penalties, a pass-interference call that moved the ball into Eagles territory and an encroachment penalty that allowed the Whirlies to convert a fourth-and-2.
What they said
"We didn't play in the fall and I feel bad for these kids. There's no doubt when teams have a hard time right now that it would be a lot different if we had all our guys out here." – Todd Willert, East Forsyth coach
"They're a good football team, a well-coached football team. That first win in the playoffs can be one of the hardest ones because it's a new season for everybody. It's a different feel. I was really proud of our guys and how hard we played and how we kept our focus all night." – Darryl Brown, Grimsley coach, on the three turnovers in the third quarter
Records
Up next
Grimsley: No. 5 Durham Hillside (6-1) in the second round of the NCHSAA Class 4-A playoffs, April 23.
Scoring summary
East Forsyth 0 3 0 10 — 13
EF – FG Andrew Conrad 50, 2nd, 10:25
Gr – Anthony Dunkins 10 pass from Alonza Barnett (Jake Henry kick), 2nd, 3:08
Gr – Jeiel Melton 47 run (Henry kick), 3rd, 10:52
Gr – Tyson Resper 29 pass from Barnett (Henry kick), 3rd, 8:06
Gr – Caleb Curtain 68 interception return (kick failed), 3rd, 3:10
EF – FG Conrad 33, 4th, 10:04
EF – Da'Mon Stokes 40 pass from Jaylen Raynor (Conrad kick), 4th, 7:39
Contact Joe Sirera at 336-373-7034, and follow @JoeSireraSports on Twitter.