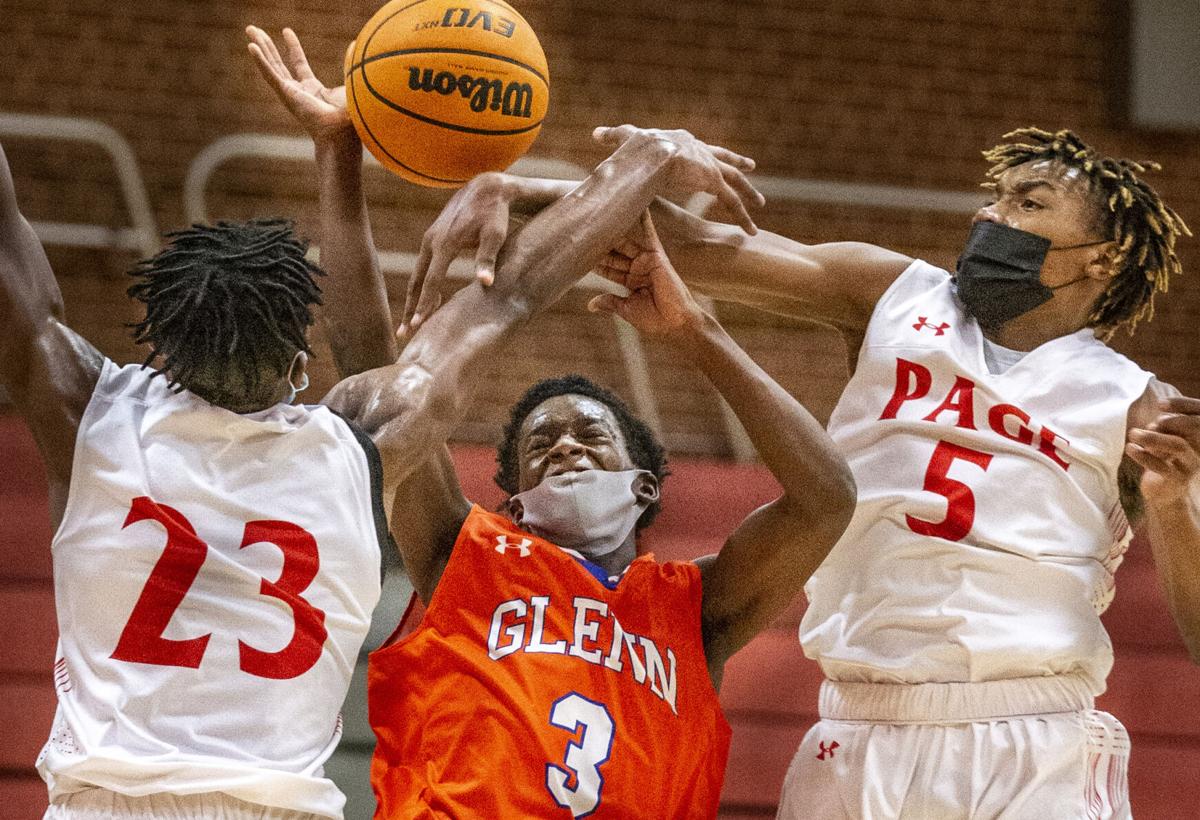 The Pirates take control with an 11-2 run to open the fourth quarter and end the Bobcats' season, 53-42.
What
NCHSAA Class 4-A West boys basketball first round
Where
Mac Morris Gymnasium, Greensboro
Why the Pirates won
Trailing 32-31 entering the fourth quarter, Page finally was able to get its transition game going with some defensive rebounds. An 11-2 run put the Pirates up 42-34, and four of the five baskets in that surge came on run-outs.
"I didn't feel any energy in this building until we went on that fourth-quarter run," said Page coach Evan Fancourt. "That was the first time we were able to muster any sustained energy. I'm super proud of them for that, because that's when you need to do it."
After Glenn cut its deficit to four points, senior Jaden Ellis took over by scoring eight of his team-high 17 points in the final two minutes. Ellis' finger roll and a dagger 3-pointer on back-to-back possessions put the Pirates up 47-38 with 1:15 to play. "For me to get those two big buckets down the stretch and close it out was a great feeling," said the West Point-bound guard.
Another key for Page was its man-to-man defense. Senior wing Darryl Phifer in particular made life difficult for Glenn's Zion Dixon in the second half. Dixon finished with 17 points, but Phifer repeatedly forced him to attack with his weaker left hand and took the Bobcats out of their offense for stretches.
Phifer finished with 12 points and Zion Connor added 10 for the Pirates.
Why Glenn lost
Page held the Bobcats to one field goal in the opening 3:25 of the fourth quarter during the Pirates' decisive run.
"We had opportunities, but we took some tough shots," said Glenn coach Johnathan Gainey. "We got out of our comfort zone of playing together and started rushing shots."
Three things we learned
1. It's about adjustments. Leading 23-21 at halftime, Page switched from man-to-man defense to a 1-3-1 zone to start the third quarter, and Zion Dixon and C.J. Vaughn hit back-to-back 3-pointers to give Glenn a 27-23 lead. Lesson learned. "I was a little bit upset with myself for coming out and jumping into that 1-3-1," Fancourt said. "Our defense was fine. We held them to 21 points in the first half. We went to it thinking that could spur a little bit of transition offense or something, but they have three guards who are smart and opportunistic and we gave them too much space and weren't flying around like we needed to be."
2. Rebounding kept Page in the game at times. Twice in the second half Glenn had a chance to grab momentum with a stop, but the Pirates pounded the boards for second and third shots and eventually scored. Josh Scovens finished with 10 rebounds and fellow junior Tyler Mcyntire added nine. "Those nearly 20 combined rebounds were huge for us," Fancourt said, "especially on a night when we weren't playing our best offensively for three, three-and-a-half quarters. They kept us in it with some second-chance points and opportunities for other guys."
3. The future is bright for Glenn. Of the Bobcats' five scorers Tuesday night, three were juniors (Dixon, Darius Caldwell and Chol Adichol) and one was a sophomore (C.J. Vaughn). Those four were a big reason why Glenn gave Reynolds a run for the Central Piedmont 4-A Conference title. "Hopefully, we'll be battling again for conference and make a deeper run in the playoffs," Gainey said.
What they said
"We struggled on defense early. We didn't allow many points, but we struggled. We really locked in during the third quarter and took pride in playing defense." — Jaden Ellis, Page senior guard
"Hopefully, we'll have a 24- game season next year. The Lord will make a way and this COVID will be under control and we can have fans back. I miss the fans. It would've been great in here." — Johnathan Gainey, Glenn coach
"I don't think that was our most focused effort, but a lot of credit for that goes to Glenn. They did a good job of making the game have kind of a weird feel." — Evan Fancourt, Page coach
Next up
Page: At No. 4 Reynolds (12-1), Thursday.
Box score
Glenn                   8  13  11  10   —   42
Page                   13  10   8  22   —   53
Glenn (9-3) — Zion Dixon 17, C.J. Vaughn 7, Darius Caldwell 6, Armani Almonar 6, Chol Adichol 6.
Page (13-2) — Jaden Ellis 17, Darryl Phifer 12, Zion Connor 11, Tyler Mcyntire 7, Josh Scovens 6.
Contact Joe Sirera at 336-373-7034, and follow @JoeSireraSports on Twitter.