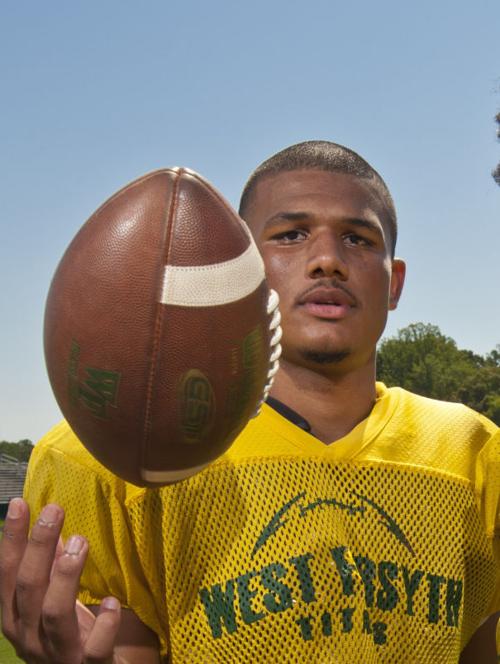 In roughly two years at Western Carolina, former West Forsyth defensive back Jaylon McMillon hadn't experienced anything comparable to what transpired over the weekend.
"Me and some of the teammates that came in last year, we've never seen anything like this," McMillon, a safety, said. "Besides this, it's been good here at Western."
Several racially charged Snapchat videos circulating via social media, involving students at Western Carolina, prompted McMillon and several teammates to spearhead a movement for the university's football players to opt out of sports-related activities — at least, for the moment. They've gained the support of head coach Mark Speir, and the issue has earned the attention of Manteo Mitchell, a WCU alum and silver medalist in track and field at the 2012 London Olympics. 
According to McMillon, the Catamounts agreed during a Zoom video Sunday not to take part in workouts — weightlifting, cardio, drills and practices that started back in mid-July — and other activities in preparation for what will be just a two-game fall non-conference season in November. He said that would likely be in effect until officials at Western Carolina conclude their review of the videos — two which were shared to social media Saturday and Sunday depicting several students, who appear to be white, using the N-word.
After a great conversation with my teammates here at western Carolina we have decided to sit out and not do anything sports related until we know what's going to happen to these people that have said racially things. It's bigger than football! #WheeWantChange #EnoughIsEnough

— Jaylon mcmillon (@JaylonM4) August 24, 2020
The university has released a statement condemning what it described as "bigoted and racially insensitive sentiments" in the videos. McMillon said the move to opt out of activities stemmed from questioning the duration of Western Carolina's review and cited a video statement, later released Sunday night, from university chancellor Kelli R. Brown.
"Our chancellor came out and she said that, 'It's going to take time.' They're going to have to re-evaluate the videos — they have to keep watching them over and over again to see if it was really bad," said McMillon, a two-time All-Central Piedmont 4-A pick at West Forsyth. "So we took that and we were like, 'Why do you have to keep watching the video multiple times to really understand what's going on?'"
A compilation of Snapchat videos lasting roughly 24 seconds, recorded and spread across social media, included what appear to be three women and a man using the N-word. A second mashup of videos Sunday totaling more than a minute and a half displayed two white men, who contended that their "OK" hand gesture wasn't part of a recent trend in which the symbol has been hijacked to suggest white power. One of the men proceeded to use the N-word referring to Black women.
Yeah this is happening WAY too much at my school rn. Y'all using this word like it's okay. It's getting to the point where over half my teammates don't even feel comfortable being here!!! But it's all good we gone handle it best believe that💯 and I hope my brothers are with me💯 https://t.co/SvjhG09uWm

— Jaylon mcmillon (@JaylonM4) August 23, 2020
McMillon said he exchanged messages in a group chat with a few teammates — including Jabril Muhammad, McMillon's redshirt freshman roommate from St. Petersburg, Fla.; Zach Hayes; Donnavan Spencer; and Christian Harris — about the videos Saturday, and the discussion about opting out began there. McMillon said Speir and athletics director Alex Gary agreed with the decision after the Zoom meeting that included players.
Speir reaffirmed that support in a statement Monday afternoon, which said his program is based on "love" and "mutual respect." He called the videos reprehensible, adding the team will promote its values campus-wide.
Brown, in the video statement posted Sunday, identified those in the circulating footage as students. The Journal on Monday afternoon contacted the chancellor's office for comment, though a response was not immediately returned.
"Over the weekend there have been several videos of students — Western Carolina University students — that are displaying behavior that is racist and bigoted," Brown said in the video. "... Last night, I had the opportunity to speak to a number of student leaders on campus and they expressed to me their fear, anxiety and pain.
"They also expressed, as well as others, the request for action. This is a justifiable request. University officials are taking active steps, even now. We must rise above the negativity and the prejudice."
Mitchell, who ran for the United States' 4x400-meter relay team on a broken leg during the 2012 Olympic Games, drove to campus from his home in Asheville on Sunday after viewing the footage. The track star met with the Nu Zeta chapter of Alpha Phi Alpha, a Black fraternity of which he's an alumnus, and helped organize what he called an informal meeting. Mitchell said he thought about 200 people attended, even at a point in the pouring rain, including Brown, whom he introduced to the crowd.
According to Mitchell, racially charged instances have occurred at Western Carolina over the last three years and cited a member of a diversity board at the university who spoke at the rally. Mitchell said he reached out to Brown via Twitter direct message Sunday. A screenshot of Mitchell's conversation, posted to social media, showed Brown responding that she would give his email to the chancellor's assistant to schedule a meeting.
"People know that I want to have the meeting," said Mitchell, who attended Western Carolina from 2005 to 2009 and as a graduate from 2009 to 2012. "I want to be in this discussion. … I want to be visible, so that people know they have the support because right now they feel like they don't.
"From what I gathered from being there — what, two hours? — is people don't feel supported, and it's not just the African-American students and student-athletes. That's everybody."
McMillon said the team held another Zoom meeting Monday to plan a march, accompanied with signs, involving athletes across campus and students to raise awareness. Muhammad said a date has yet to be set — shooting for later this week.
"Just for a bigger picture, what's going on in today's world, it's way bigger than football at this time," McMillon said.
Be the first to know
Get local news delivered to your inbox!