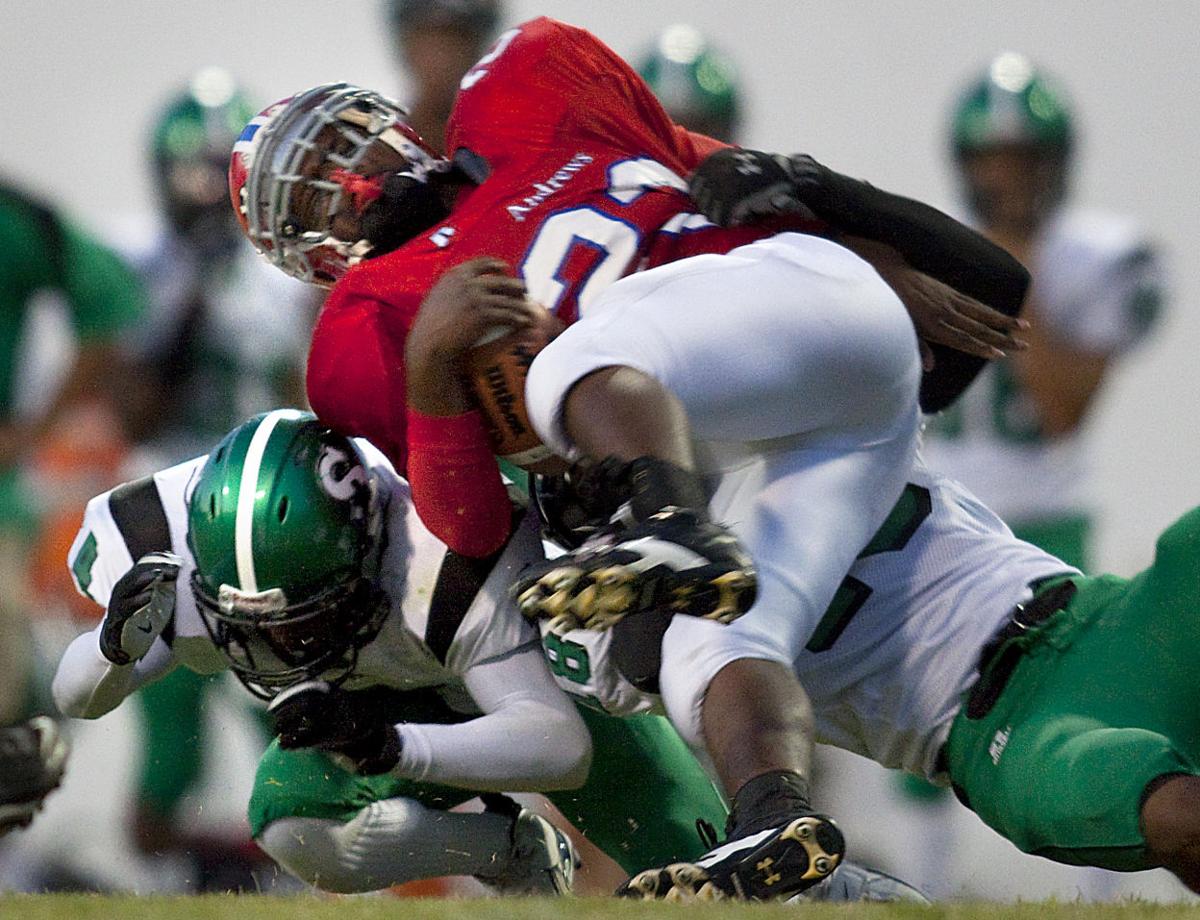 Why Reidsville won: Reidsville rallied from a 16-6 deficit with three touchdowns in the fourth quarter to win its 36th in a row, the longest active streak in the state. Reidsville did it on defense: Northeast rushed for 147 yards in the first half, but Reidsville's defense adjusted, shut down the option and allowed just 39 rushing yards in the second half.
Stars: Northeast Guilford — RB Trey Ingram 21 carries for 107 yards; RB Rayshawn Trader 7 carries for 55 yards. Reidsville — QB Tyrell Houghton 12 carries for 69 yards, 1 TD, 6-for-11 passing for 86 yards, 2 TDs; RB E.J. Foster 12 carries for 76 yards, 1 TD; LB Steve Williams 19 tackles; DB Kenzel Doe 9 tackles, 2 interceptions.
The plays, Part I: Trailing 16-14 in the fourth quarter, Reidsville DB Kenzel Doe intercepted a pass at the Northeast 33 with 6:30 left. That started a seven-play scoring drive and Reidsville took the lead for good. On third-and-long, QB Tyrell Houghton hit RB E.J. Foster with a pass in the flat at the 5-yard line, and Foster ran into the end zone with 3:50 left.
The plays, Part II: After the go-ahead touchdown, Reidsville's defense pinned Northeast deep in its own end, taking over on downs at the 15-yard line on an incomplete pass. On the next play, Foster burst through the middle and scored with 2:54 left. Ball game.
R – Denzell Blackwell 31 pass from Tyrell Houghton (kick failed)
NE – Trey Ingram 32 pass from Darius White (Johnny King run)
NE – Rayshawn Trader 4 pass from White (Ingram pass from White)
R – Houghton 2 run (Mike Allen pass from Houghton)
R – E.J. Foster 13 pass from Houghton (Allen pass from Houghton)
R – Foster 15 run (pass failed)
Site: Northern Guilford, Greensboro
Why Northern won: Keenan Allen ran for 57 yards and three touchdowns, had 80 receiving yards and caught a touchdown pass and passed for 64 yards and another touchdown to lead the Nighthawks.
The play: With the Nighthawks clinging to a one-point lead in the fourth quarter, Allen came in to punt on fourth down. But it was a fake and he hit Maurice Harris for a 12-yard gain. Two plays later, Allen threw a 28-yard touchdown pass to Daniel Downing that put the game out of reach.
What they said: "He's a one-man wrecking crew. We knew what he was before the game and we couldn't stop him. It's not like he surprised us." — Joe Woodruff, Northwest coach about Northern star Keenan Allen.
Special to the News & Record
NG – Keenan Allen 4 run (Kris Gafford kicks)
NWG – Jordan Browning 80 pass from Matthew Pawlowski (Skyler Thomas kicks)
NWG – Dalton Dillon 11 run (kick fails)
NG – Allen 11 run (Gafford kicks)
NG – Joseph White 7 fumble recovery (Gafford kicks)
NG – Allen 66 pass from Rocco Scarfone (Gafford kicks)
NWG – Dillon 1 run (Pawlowski run)
NWG – Pawlowski 5 run (kick fails)
NG – Daniel Downing 28 pass from Allen (Gafford kicks)
NG – Allen 4 run (Gafford kicks)
Why Southeast won: The Falcons accumulated 300 rushing yards and forced three Cougars turnovers. Southeast also Rockingham's rushing attack to 85 yards on 26 carries.
RC – Eric Kennedy run (kick failed)
RC – Alex Dalton 90 kickoff return (Clark Patterson pass from Cody Munson)
RC – Jordan King 45 pass from Munson (Jason Davis kick)
Why Bishop won: The Villains gained over 300 yards rushing and was able to control the ball for most of the game.
Stars: Bishop McGuinness — RB Jared Pluciniczak 11 carries for 110 yards, 3 TDs, RB Marty DeFrancefco 5 carries for 80 yards TD.
B– Plucinizak 29 run (Kevin Faxon kick)
B – DeFrancesco 34 pass from Josh Rathburn (Faxon kick)
B – Plucinizak 4 run (Faxon kick)
B – Plucinzak 2 run (Faxon kick)
B – Thomas Lawler 49 run (Faxon kick)
B – DeFrancesco 52 run (Faxon kick)
B – Tyler Woods 8 run (Faxon kick)