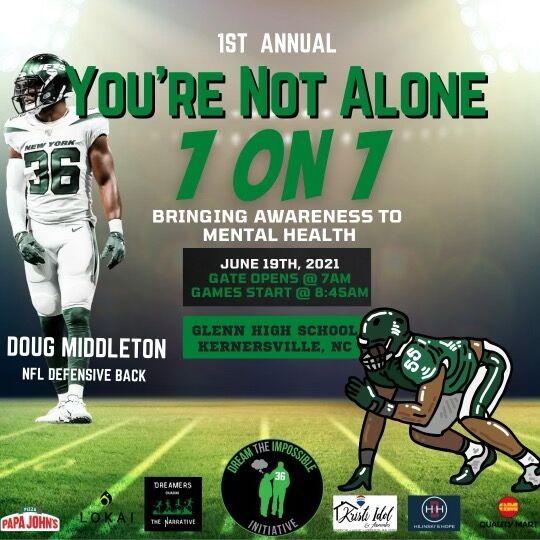 KERNERSVILLE — When seven high school football teams come together Saturday at Glenn High School for a 7-on-7 event, they'll be there for the usual offseason skill development and competition. But they'll also be there for something much, much bigger.
Everyone participating in the You're Not Alone 7-on-7 will be there to honor the memories of Glenn's Sterling Fair and Northern Guilford's Mitch Lasley, two young men who took their own lives in the past year. And they'll be there to talk about ways to make sure no other teams or families lose any young men to suicide.
"Anything we can do to keep another family from enduring what our family has endured," says Shanna Lasley, Mitch's mom. "Statistically, I think this can't be happening to me, and when it did happen, I thought this can't happen to anyone else even remotely near us."
Neil Lasley, Mitch's dad, adds: "It hurts my heart to have parents come up to me who were and are very good friends and say, 'I never would've thought it would happen to you guys.' That means that it could've happened to someone else in a different situation."
'Just reach out to somebody'
The numbers are alarming to put it mildly. According to the Center for Disease Control's most recent statistics (from 2019), suicide is the second-leading cause of death in the 15- to 24-year-old age group behind only accidents. The suicide rate among males in that age group is four times the rate for females.
When Fair died Jan. 20 at the age of 16, Glenn coach Antwon Stevenson knew it was time to talk openly about suicide in young men and address the issue. A media member connected him with Northern Guilford coach Erik Westberg so that they could help each other through the grieving process.
"The biggest thing, and what he was going through at the time, was whether he could've done something different, to see something different or see it coming," Westberg says.
Another media member suggested the two coaches get their teams together for a scrimmage or a 7-on-7 to raise awareness about mental health issues. Since most teams had already scheduled their scrimmages for August, they decided to hold a 7-on-7.
"The biggest thing is just making sure our kids understand that you don't have to bottle this stuff in," Stevenson says. "We know that football is a competitive sport, a brutal sport, but there's life outside of football. With social media and other stuff these days, kids can fall into a depressed state and we just want them to know that if you don't want to talk to your coach or your parents, just reach out to somebody. It's people being able to express their feelings and get things off their chest. If kids are able to just express their feelings openly and not be considered soft, it will be a good thing. We need to normalize young men crying and saying that they need help."
It was Stevenson's idea to reach out to Doug Middleton, a former Parkland and Appalachian State football player, to take a role in the event. Middleton, who has spent the last five seasons in the NFL as a safety, lost his best friend, A.J. Morrison, to suicide in 2017 and founded the Dream the Impossible Initiative to raise mental health awareness. He was "all in from the beginning," Stevenson says. "We didn't want it to fade away."
Support has been strong in the high school football community, with a number of teams that were unable to participate donating the $100 entry fee anyway.
"I think this is something we ought to be able to do every year," Westberg says. "If it turns into a (scrimmage) jamboree next August, that would be awesome, too."
'I just want it out there in the open'
Neil and Shanna Lasley are having lunch with the coaches and with Reginald and Vonetta Fair, Sterling's parents on Friday, "so it's not dry on Saturday," Neil says. "We plan on being there for the speaker and watching the ballgames."
Watching football games in what would have been Mitch's senior season was not easy for the Lasleys, even though they know many of the Northern Guilford players and wanted to be there to support them. Neil coached many of them in the Nighthawks' youth football league, and Mitch's circle of friends was large.
"For me, it was very painful to be at the games," Neil says. "It was just like graduation. We were so excited for a lot of the boys to graduate because we know a lot of the struggles that they went through, and the same for Mitch. But at the same time we were still mourning and thinking Mitch should be doing that, we should be booking a caterer and having family in town. Mitch should be on the football field."
But that hasn't stopped the Lasleys from doing everything they can to raise awareness. They've gotten involved with Hilinski's Hope, an organization started by the family of former Washington State football player Tyler Hilinski, who took his own life in 2018.
One of the most important things they want other parents to know is that the best way to prevent suicide among young people is to talk about it.
"There's a lot of stigma that comes with suicide," Neil Lasley says. "That's why it's not talked about, why no one wants to address it.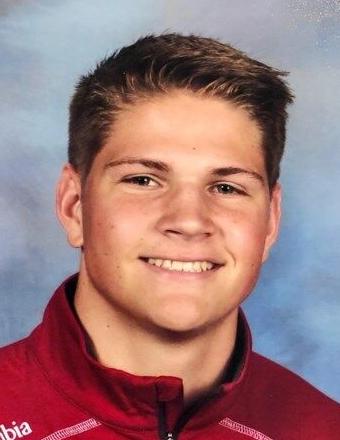 "I am proud of my son. I love my son. I'm proud of who he was and what he was going to do. He was going to be a fantastic U.S. Marine. He was going to do great things. … I will never ever, ever feel ashamed. I will never ever let anyone put any guilt or that stigma on me or on us. I'll walk around with a sign or whatever just so people will talk about it. I just want it out there in the open."
One thing that has helped the Lasleys through the loss of their son is the support they've had from the Northern Guilford community.
"We'll never be able to know all of things people have done for us, but we're so grateful!" Shanna says. "People just took care of us when we didn't even know what was happening. We are so blessed!"
One group that has remained an important part of the Lasleys' lives since Mitch died the night of July 4-5, 2020, is his former teammates. Some of the Nighthawks began working out in the basement of the Lasleys' home in Summerfield before the COVID-19 pandemic, using a squat rack and other weights Neil had bought for Mitch, and they've continued to use the makeshift weight room even without their friend.
"It was great to have them around," Neil says, "because it made us feel normal."
"I don't know how I would even be standing up without all those kids," Shanna says, her voice breaking. "They've been there more for me than I have for them, and I worry about them because I can't go to another funeral. They just love us so much. They come in to work out, but they do all the heavy lifting for me since my big boy isn't there to do it. They stop what they're doing and talk to us, tell us what they're doing in their lives and usually a funny joke or a crack about our kid."
'We're just trying ... to make sure it doesn't happen again'
Shanna and Neil Lasley want people to know about their son — who he was and who he was becoming at age 17. Mitch had found himself and grown in confidence through weightlifting and was looking forward to his senior season and joining the U.S. Marine Corps after graduation.
"When he had a passion about something, he was all in," Neil says. "It showed in so many ways that we never saw until after he took his life. The vigil the night before his funeral and before the celebration of life, there were probably 300 to 400 people who showed up in our front yard. So many stories were shared … the people and friends that he brought together who were not in the same demographic, the same team, the same high school, it was really cool."
Shanna says, "It's important to know that Mitch didn't have a dark bone in his body. No one would've ever guessed that it would be Mitchell because he was never sad, he never hung his head, he stood up straight. He was a complete goofball and never had behavior issues in school. He'd found his way and was already enlisted in the Marines. You would've never guessed that he was sad or had it in him to do this. That's what's so hard, is I want to know why, and I can't find the why."
Westberg saw the same young man Mitch's parents did in his interactions with him as coach and teacher.
"He was an awesome kid to be around," the Nighthawks' coach says. "He was funny. He worked extremely hard in the weight room. He had a goal in what he wanted to do with his life, and you had to appreciate that. I remember I would have really good conversations with him. He'd be the first one in the weight room and he'd be killing it, crushing his workout and then when he was done he'd come over and he'd be eating a sandwich, getting his protein to fuel back up. We'd sit and talk and laugh. That's what I remember about him. I just really enjoyed being around him."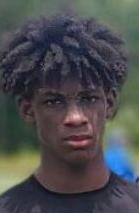 Sterling Fair had the same kind of impact on his teammates, classmates, coaches and teachers at Glenn.
"I read Sterling's obituary," Neil Lasley says. "He was a great kid. He was the one picking everybody else up, and that's exactly who Mitch was. Unfortunately, a lot of times these young men who are being asked to do things where they are positive for other people and building them up, but not always building themselves up at the same time."
That's what the You're Not Alone 7-on-7 on Saturday will be about: building up the young men participating so that there aren't any more suicides.
"When there's a negative circumstance, you can think of it in a negative way or make a positive out of it," Stevenson says. "In life, the past is the past and all we can try to do is learn from it and be proactive going forward. Of course we're going to think about those two young men for the rest of our lives, but we're just trying to be proactive to make sure it doesn't happen again."
Contact Joe Sirera at 336-373-7034, and follow @JoeSireraSports on Twitter.