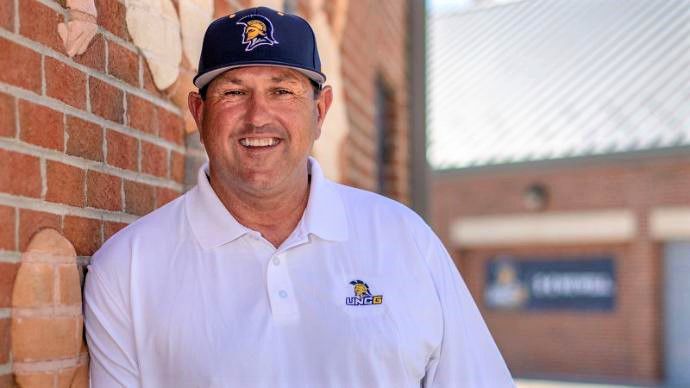 GREENSBORO — UNCG baseball coach Billy Godwin is recovering from a stroke he suffered during the Spartans' opening road trip to a tournament at Coastal Carolina over the weekend.
An official statement on the baseball team's Twitter account said that Godwin had "a minor stroke" and was "resting comfortably, but no timetable has been set for his return."
UNCG athletics director Kim Record said she believes Godwin, 55, will return to work this season.
"He's obviously not at our game tonight at Wake Forest," Record said. "I'm sure he wanted to be there, but we said, 'No, you can't do that just yet.' We're stressing to him that his health comes first. But he'll absolutely coach again this season, and I anticipate sooner rather than later."
In the meantime, assistant coaches Greg Starbuck and Hunter Allen led the Spartans in Sunday's 11-4 victory over San Diego State in Conway, S.C., and again Tuesday at Wake Forest, a game that was suspended by rain in the 5th inning with Wake leading 6-2.
UNCG split its first two games of the season in Conway, losing 12-4 to host Coastal in Friday's opener, then beating Virginia Tech 7-5 on Saturday.
Godwin suffered the stroke Saturday night.
"You hear the word 'stroke' and that's a very scary thing," Record said. "He started getting sick Saturday night, having bad flu-like symptoms. It just got to the point where his assistants said, 'Coach, you need to go get checked out by a doctor.' His wife was there on the trip, and she went with him (to the hospital)."
Godwin was admitted early Sunday morning, returning to Greensboro for follow-up treatment.
This is Godwin's first season at UNCG. He was hired in August to fill the vacancy left when Link Jarrett took the job as Notre Dame's head coach.
Godwin was East Carolina's coach from 2005-14, going 334-214 (.608) and taking the Pirates to five NCAA regionals. He then worked as a scout for the New York Yankees for five years before taking the UNCG job.
"He has a ton of friends and colleagues," Record said, "and with social media, there was a lot of information floating around out there. And some it made it sound much more serious than it was. … We wanted to clear all that up with the statement (on Twitter)."
Contact Jeff Mills at (336) 373-7024, and follow @JeffMillsNR on Twitter.
Be the first to know
Get local news delivered to your inbox!