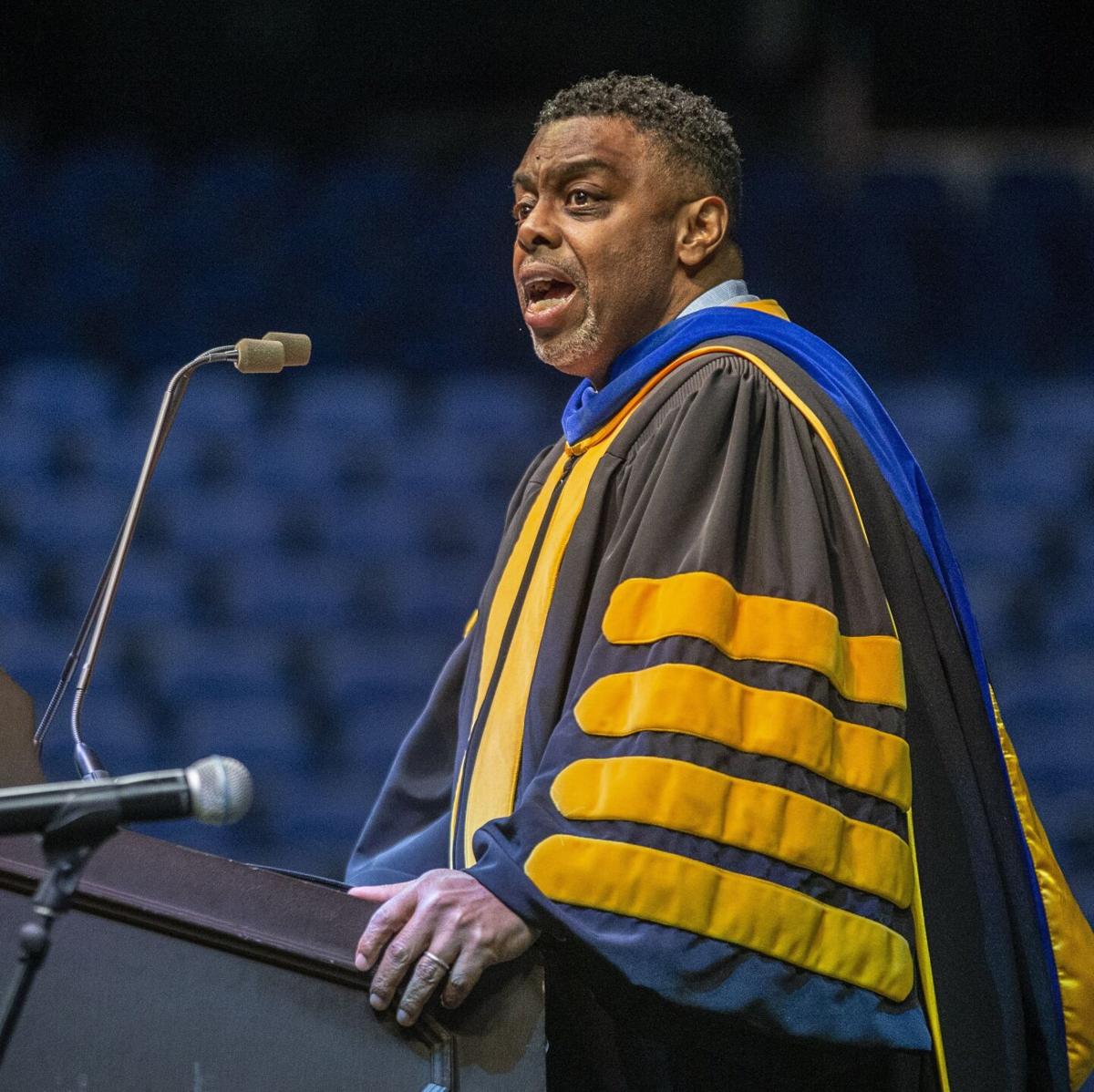 Just reaching an NCAA Tournament isn't enough. Chancellor Franklin D. Gilliam Jr. wants to see Spartans athletics teams winning games in those championship events.
To do so, a new athletics director will need to have a strong fundraising background and be effective in the university's home city to help raise the money Gilliam believes UNCG will need to score more postseason wins, though he knows they won't be possible in all sports.
"You have to find ways to supplement the revenue stream," Gilliam said in an interview Thursday. "More donors, more corporate sponsorships. ...
"We just haven't gotten enough support for athletics. And I would like to see us get a lot more. So as we look to the new AD, we'd like to see a very experienced fundraiser, for example."
The interview was Gilliam's first publicly since he announced Sept. 3 that Kim Record, a 12-year veteran in her job, would no longer be UNCG's athletics director; Record was notified two days earlier. The university is receiving proposals from search firms to fill the position, in which Kevin Bostian is serving on an interim basis.
Record's most recent contract, signed in April 2020, was scheduled to expire June 30, 2022. The contract, unlike one that she signed with former chancellor Linda Brady in 2014 and that was amended in 2017 by Gilliam, included metrics such as meeting a fundraising goal of $3 million for facilities by Dec. 30, 2020, and some broader actions that included working 40 percent of the time with University Advancement and meeting those goals.
As he did to UNCG's Board of Trustees last week, he called the separation with Record "hard but necessary." Asked to elaborate, he said, in part, "Follow the contract," pointing to her 2020 contract and the new action items.
Among the other points Gilliam made:
While he wants the Spartans to win – Gilliam played football at Drake in the mid-1970s – he doesn't want athletics to become the "front porch" of the university.
Not only tapping into Triad companies for support but continuing to court donors who aren't alums but "care about Greensboro" could help the athletics department achieve financial goals and boost a budget that totals just short of $19 million and is funded heavily by student fees.
America's pastime is not coming to UNCG.
Southern Conference university leaders, including Gilliam, are monitoring the realignment landscape.
Read more to see Gilliam's fuller thoughts on those topics during an interview lasting for nearly an hour:
What success nationally could look like for UNCG
"We have several sports, or a handful of sports, that have proven they can be nationally competitive. And whether it's been men's basketball, or men's soccer, or softball, baseball, golf, we've done a really good job of winning conference championships but we've gotten to the NCAA and not won much. ...
"So that's what I'm thinking about. Nothing about athletics as a front porch of the university, because it's not the right fit for this university. But I believe deeply in intercollegiate athletics. I believe deeply that this university should operate at the Division I level. And I believe deeply that there are sports where we can, as a mid-major, advance further than we have, to win. We've been competing, and competing well, but not winning our fair share. ...
"My aspirations are for the entire university, from zoology to whatever. But we have some really fine programs that are nationally competitive, and we want to feed those programs and find ways to feed those programs. So in our capital campaign, when we talk about excellence, that's what we're looking at when we talk about impact. So we're looking at ways to support our really strong programs. ...
"So buy games (earning guarantees in men's basketball to play high-profile opponents), we've done things to support baseball and softball. We need to continue to upgrade the facilities. ... We need to raise more donor dollars. ...
"Unfortunately, we can't do it across the board. So we have to prioritize. And that falls on me and the leadership team. There are some sports that we have to prioritize over others. And I would not prefer it that way. It's not my preference. But I have to be realistic."
On generating revenue to support more athletics success
"It's difficult in the way intercollegiate athletics is funded here, based on student fees (62 percent, or more than $11 million, of the budget), so you have to find ways to supplement the revenue stream. More donors, more corporate sponsorships. ...
"We just haven't gotten enough support for athletics. And I would like to see us get a lot more. So as we look to the new AD, we'd like to see a very experienced fundraiser, for example.
"We're not modeling after – some of the ones that have (he mentioned Coastal Carolina) have made a university-wide commitment to make athletics a front porch, and that's a strategy we're not going to follow. We've seen others decide to invest in heavily in men's basketball, because that's where the money is.
"I can't afford (for his office) to supplement buy games. We've invested a lot in the renovation of facilities to make recruiting more attractive. I was very adamant about renovating the academic space. ...
"We've gotten people to pay attention to us. What we found in the research, people didn't dislike us; we didn't register, at all. Job One (after he arrived in 2015) was to get folks to recognize we're here, and that was be involved in Greensboro, be visible in Greensboro and the Triad, start to get visible in Raleigh. And we've done that politically by getting support for capital projects. Make a dent in Charlotte; we get students from both of those places.
"We've got their attention, now what are we about? What makes us special, what makes us distinctive both as a university and as an athletic program? And to do that you have to have programs of distinction whether it's in biochemistry or baseball, and that goes back to you've got to win. People don't pay attention to you until you win. App (Appalachian State football program) gets big attention because they beat Michigan. That put them on the map. ...
"The point I've been making to donors who are not UNCG alums – in fact, our biggest donors haven't been UNCG alums, because they care about Greensboro. We've got athletically to raise our profile, and partially – I hate to say it – but it's about money. You need to be able to get the buy games so you raise your RPI and you get a better seed if you win the conference. We have to do it consistently. It can't be a one-and-done (in NCAA tournaments). We don't have a lot of corporate sponsorship for our athletics program. ...
"If you look at the companies that employ more than a few hundred people, or bigger companies, you'll find that our alums work there. We need their support."
On Record's departure
"In 2017, we extended Kim a three-year contract. In 2020, we extended her a two-year contract with a number of metrics in the contract, very specific metrics. I've been in this business 38 years. If I got less years and more metrics, I think I would have taken that as a signal that there wasn't great support. ...
"The timing was coincidental. We were supposed to have a conversation about the contract, I think in June; it got put off. She had a big agenda, and we had some stuff that really had to be taken care of then. And that contract was the last thing on the agenda and we were then going to get to it. She went on vacation; I had hip replacement surgery. And then we said, 'OK, let's talk about it the next time we meet.' So there was actually no kind of conscious effort to time it in any kind of way. ...
"We made an agreement to pay her her full contract. She served at will; we did not necessarily have to do that. And we paid for her COBRA, which our HR experts say is unheard of. We are appreciative of the effort Kim gave to the university, appreciative of what she gave of herself to the university, tried to be generous in the terms of the separation. But as I said in the board meetings, sometimes you have to make hard but necessary decisions. Twelve years is more than twice the average AD's length of service, I think, nationally. And I felt where we wanted to go aspirationally, we needed a change in leadership. It's my responsibility to do that. ...
"You never want to not extend the contract of a nice person. You don't want to do that. But this is my job to do what's in the best interest of the future of the university. Not the past. It's my job to say, 'OK, what is this university going to look at, whether it's intercollegiate athletics or biochemistry, for the next two, five, 10, 15 years?'"
On the short notice Record was given
"It is standard HR practice. We have a trustee on our board ... and she said in the board meeting she was surprised that anybody would be surprised. This is standard practice. "
On his role in the hire of new men's basketball coach Mike Jones
"We consulted (Gilliam with Record). I consult on all the senior hires, just like I'm doing for vice chancellor for communications. I did talk to all of the candidates. I talked to eight basketball coaches and nine provost candidates in one week. I did the same thing with men's soccer.
"We consulted. In the end, I have to sign off on them."
How Jones can help Gilliam's vision for athletics
"The first thing he said is, 'I'm a developer of young men. He didn't say basketball players. He said young men.
"I knew he was a man of integrity. I knew he'd won. I knew he'd been a coach of the year. ... We were not a rebuild program. We are a pretty mature program, even though Wes (Miller) managed to take some of the good young players (to his new school, Cincinnati). We still had a very good core of guys who played a lot of basketball for us. So the conversation was about what kind of coach do you want when you have a more developed program."
On football
"No, we're not starting a football team. I've been asked that ever since I've been here."
On conferences and realignment
"I think the broader question is 'What do you do in a really changing intercollegiate landscape?' And how does a school like ours, in a conference like ours, find its place? It's actually quite amazing how many schools have shifted conferences, how many conferences are talking to schools and so on. We're having a CEO retreat of our conference up at Western in two or three weeks, and that's on our agenda. What is the Southern Conference? How do we respond to this?"