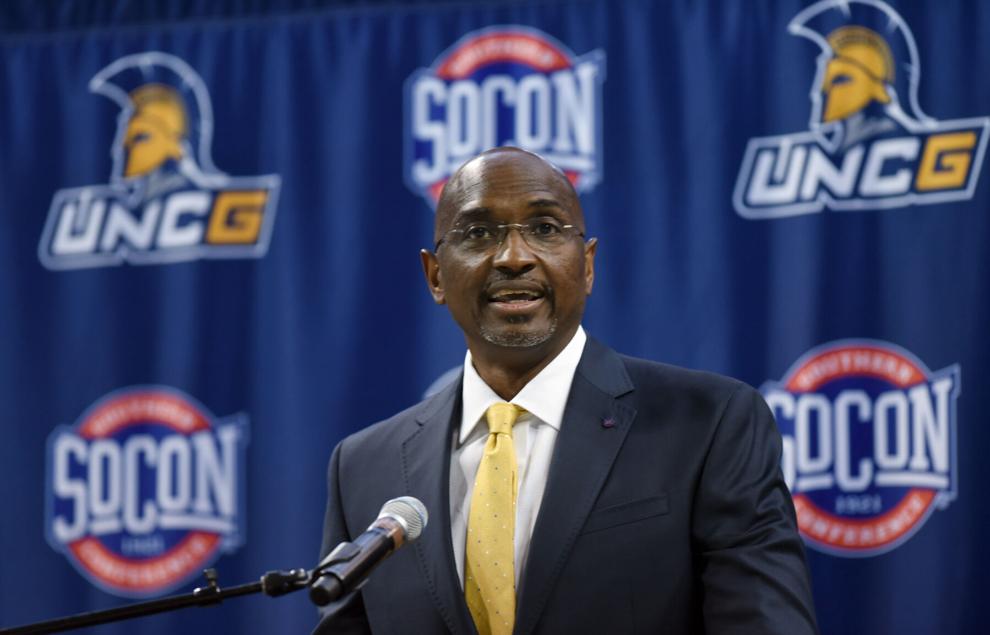 GREENSBORO — Mike Jones might have to win over the UNCG basketball players, as any new coach does in the era of the NCAA transfer portal. But Jones doesn't have to sell his former colleagues.
They rave about Wes Miller's successor, a job Jones took Monday. Just listen to VCU head coach Mike Rhoades, who was on Shaka Smart's staff with Jones that guided the Rams to the NCAA Final Four in 2011 and called the hire "an absolute no-brainer."
"Those guys will be impressed with him right away," Rhoades said, "and in due time they'll realize this is the type of dude I want to be around."
What's so impressive about Jones? It starts with who he is, not just as a coach but as a man.
"I've known him for 20 years," said Smart, who recently left Texas to become head coach at Marquette. "Unbelievable family man. Tremendously high character. I've never seen him in any interactions with players treat anyone except with the utmost respect."
Jones, 55, has had a lot of interactions with players in a coaching career that began with the junior varsity team at Washington (D.C.) Sidwell Friends School in 1990. He was an assistant at his alma mater, Howard, as well as Furman, Richmond, West Virginia, Georgia and VCU before becoming head coach at Radford in 2011. His Highlanders lost to UNCG twice, 65-58 at the Greensboro Coliseum in 2018 and 60-58 at Radford in 2019.
Jones took over a program that was facing NCAA sanctions that included a limit on scholarships through 2014 and a postseason ban for his first two seasons. Radford went 19-45 those years, but the next season Jones' Highlanders finished 22-13 and reached the quarterfinals of the College Basketball Invitational tournament.
A year later, they went 22-12 and also reached the CBI quarterfinals. Radford, rebuilt through strong recruiting and coaching, went 66-35 over the next three seasons and reached the NCAA Tournament in 2018 after winning the Big South Conference tournament.
"That record speaks for itself in what he had to build at Radford," Rhoades said. "It's pretty darn spectacular, but the way he goes about it and the way he treats people is a special thing."
Jones said the way he builds relationships with players is simple.
"Be honest with them," he said. "Tell them the truth."
That's how Jones is going to communicate with the current UNCG players, a group he spoke with Monday morning on a video conference. The Spartans' new coach says "you need to talk to them face to face, share your vision. Explain to them why you want them to be in the program."
The recruiting starts immediately, with three players in the transfer portal from the Spartans team that won the Southern Conference Tournament this season, advanced to the NCAA Tournament and finished 21-9: junior wing Angelo Allegri, junior guard Kaleb Hunter and sophomore guard Michael Hueitt. Jones also will try to build a relationship with former Greensboro Day standout John Newman, who signed a letter of intent to transfer to UNCG from Clemson.
Newman will be out of town until next week but said he hopes to have a Zoom meeting with Jones soon.
"I'd say it's a matter of a few days," the 6-foot-5 wing said when asked for a timetable on his decision. "I just need some time to sit down and think, talk with my parents and do a little more research."
Jones says he'll tell Newman and the rest of the Spartans that "a lot of the reasons why they came to UNCG are still here. ... Now they need to know me, because it's about relationships."
That ability to build relationships was something former N.C. A&T head coach Cy Alexander saw when he recruited Jones to Howard as a player out of Montgomery County, Md.
"He understands the game, but he also understands how to communicate with young people," Alexander said. "Being able to develop trust, that's one of the things he and I had as player and coach. We could talk about anything on and off the court."
On the court, Jones' wants "aggression" to be the first word that comes to mind when talking about his teams, "similar to the way Wes Miller's teams competed. Primarily man-to-man defense, but we mix it up. Zone is important. We press a little bit."
He's learned as an assistant to successful college coaches such as Dennis Felton at Georgia, John Beilein at Richmond and West Virginia and Smart at VCU.
"He has his own style," Rhoades said, "but he's stolen from all of those guys, which is what you do."
Jones, whose final Radford team went 12-6 in the Big South and 15-12 overall, says his Spartans teams are going to "try to make the other team uncomfortable."
Jones also emphasizes skill development, which was a staple of the Spartans' program under Wes Miller and helped Isaiah Miller go from a lightly recruited high school player out of Covington, Ga., to a two-time SoCon player of the year at UNCG.
"We want those guys to be better when they leave than when they came in the door, no matter how good they are coming in," Jones said.
But it's off the court where Jones has the greatest impact.
"He has high standards for himself and the people around him, and he and his wife, Sharon, are just such good people, loving people," Rhoades said. "He truly is a servant leader. He's going to help his guys, and he's going to love them up while holding them to a high standard.
"He's exactly the type of coach, role model, mentor that you want your son around," Rhoades added. "If my sons could play for Mike Jones, I'd be a very happy dad."
Contact Joe Sirera at 336-373-7034, and follow @JoeSireraSports on Twitter.