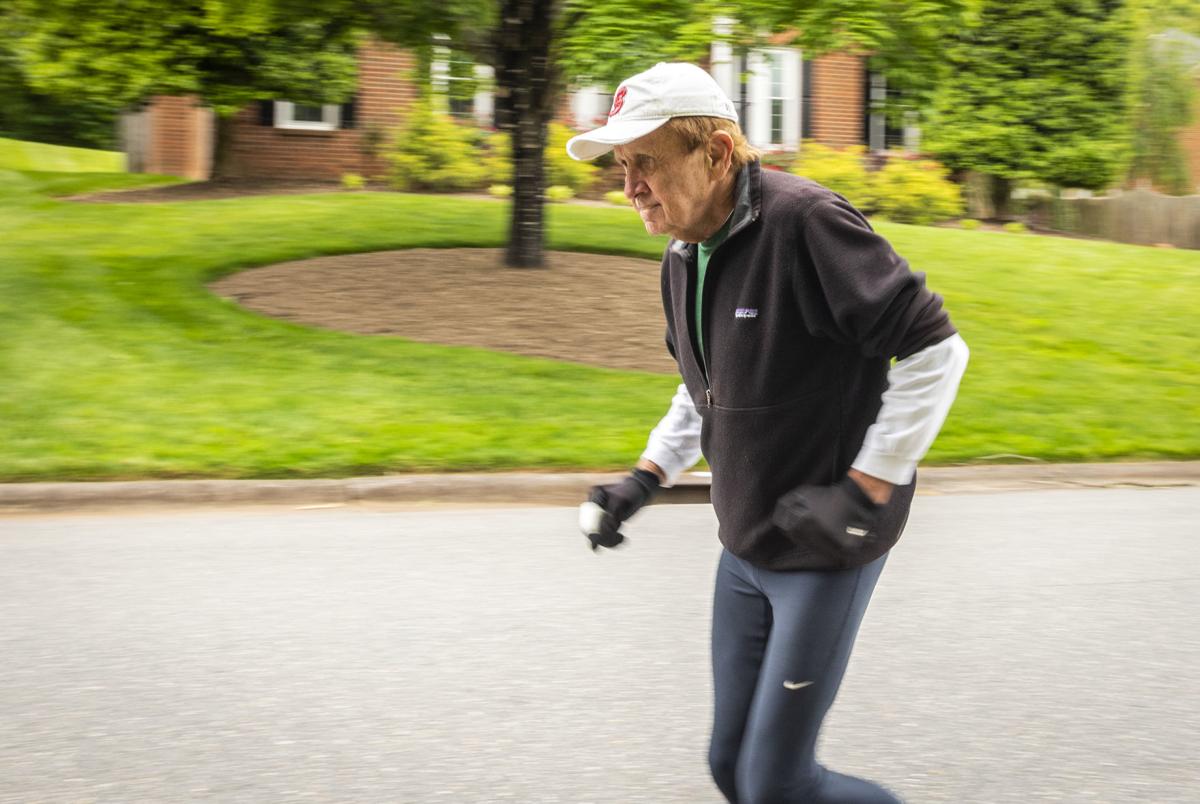 Those expecting that a global pandemic would slow runner Bill Keane don't know him very well.
Keane, 75, who is a highly ranked competitive ultramarathoner and lives in Winston-Salem, has been putting in his mileage just as he always has.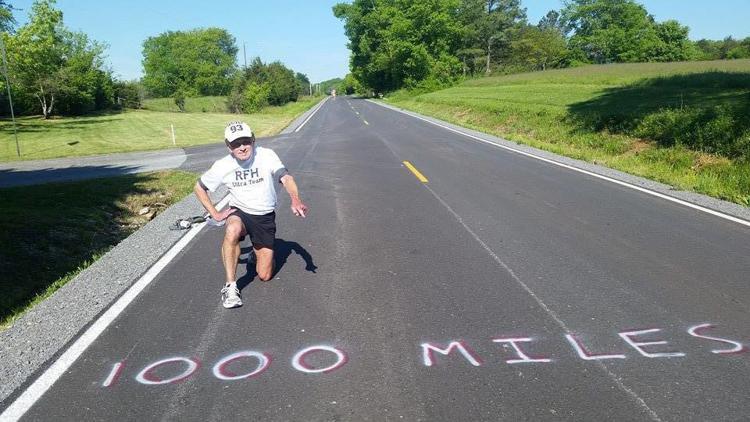 It's just that over the last six weeks or so he's noticed a lot less traffic in his daily 10- to 12-mile runs that start from his home off Peace Haven Road.
"Why stop now? I've got big goals ahead of me," said Keane, who logged an incredible 3,129 miles last year and added to his career total of ultramarathons with 387 over 34 years.
Five of Keane's races this year have been canceled because of the COVID-19 pandemic, but he hopes by next month he can resume his somewhat crazy running schedule.
"I want to do 400 ultramarathons," Keane said.
In 2020, he has averaged about 300 miles per month, thanks to his six-day-a-week routine.
With his trademark toothpick in his mouth he trains with a purpose but is smart about it as he's gotten older. His goal is 10-minute miles when he gets to races, which have also included several 24-hour races.
"My wife (Susan) said it best one time about these 24-hour races," he said. "He leaves on Saturday and comes home Sunday mornings."
Keane, a former engineer who graduated from N.C. State, has a spreadsheet that details his races, miles run and locations of his travels. Keane and his wife have been married 52 years, but she doesn't always travel with him to races.
"She comes with me to the nice places," he said.
Maybe what has given Keane such a leg up on other runners in his age group is his wry sense of humor and his humility. He is quick with a funny comment about most anything.
Last week during one of his runs, he was pulled over by a police officer on Country Club Road while running his normal route. The siren wailed and the police officer stopped Keane in his tracks.
"He was actually a friend of mine and he gave me one of these," Keane said holding up a protective face mask. "He said he stopped me for impersonating a runner."
Documentary comes to life
Last November Keane was a subject of a video documentary on one of his 24-hour races, thanks to a North Carolina student.
The title of the video is "1 Mo Run" matches Keane's license plate on his truck.
John Bigelow, a junior at UNC from Greensboro, was looking for a subject for his project on when Keane's daughter suggested to Bigelow that he consider her father. Bigelow, who majoring in journalism, captured the essence of what it's like to run a 24-hour race and was there for the Crooked Road 24 Hour Ultra in Rocky Mount, Va.
"He did a real nice job with the video and I'm proud to say he got an A-plus on the project," Keane said.
What made the documentary more difficult was that it rained about 14 hours during the daylong race. 
"John told me he also received some high praise from the faculty for his effort," Keane said.
It wasn't until afterward that Bigelow told Keane the project was for 100 percent of his semester grade.
"That was a lot of pressure," Keane joked.
Bigelow said what struck him about working with Keane over a few months for the project was his dedication to running.
"To be his age and still be passionate about running was amazing," Bigelow said. "He was very humble about his accomplishments, too, which made me admire him even more."
The trademark toothpick
Running ultramarathons takes plenty of patience and training. An ultramarathon is any race beyond the 26.2 miles that make up the marathon, but generally start at 50 kilometers, or about 31 miles.
Keane, who has run only one marathon, has always loved the challenge of the ultramarathon and has completed more than 30 races that last 24 hours.
Through it all Keane puts in his miles with a toothpick in his mouth that he says takes his mind off what's ahead.
He got used to the toothpick back in his days working for Western Electric and AT&T as an engineer. He landed at Western Electric in Greensboro after graduating from N.C. State.
"It's an excellent business-decision tool," he said of the toothpick. "I tend to be sarcastic and when I was working I had the toothpick, we bid on contracts a lot, so it was something I needed in the working world."
In 1997 he was given a severance for his time at Western Electric/AT&T after 30 years, and he didn't slow down because just two weeks after he was let go he started his own business.
"They hit me with a sack of money on my way out, but I outsmarted them there because when I opened my own business I was making double the salary, so I rode that horse for 15 years until I retired," Keane said.
Keane doesn't have a nickname, but he does have a name for trying to out-run father time. He calls it "The Time Bandit."
"That's my adversary," he cracked. "I'm only racing against age now."
One of the best around
In the niche world of ultramarathons there are seven categories of races starting with the 50K then moving to the 50-miler, 100K, 100-miler, six-hour, 12-hour and 24-hour levels. As for his favorite local race, Keane has run the Twin City Track Club's Frosty 50K in January at Salem Lake 19 times.
One of his highlights came in 2015 when he finished sixth in the country for runners ages 50 and above by running 1,030 competitive. He was 70, the oldest runner among the top 20.
Keane says living in Winston-Salem is ideal for the race season because it's so centrally located.
"I can run as many as 25 races within a four-state radius," Keane said. "There are some great runners such as Ray Krolewicz of Columbia, S.C., who is a retired school teacher who was No. 1 in the world with 92 ultramarathon finishes, and Rob Apple, an accountant from Murfreesboro (Tenn.) who is in his 50s and is really good as well."
Keane also is part of a long-standing ultramarathon club in North Carolina with more than 100 members. He came up with a T-shirt slogan, "Suck it up Buttercup." Even though it's an individual sport, Keane said he's all about teamwork. He loves being a mentor to younger runners.
There's no real secret, Keane says, as to why he keeps rolling up the mileage. He says it's fun in a weird sort of way, but it's also rewarding. It also helps that he thinks of himself as a people person, especially when he's running.
"In ultramarathons you are always finding people to run with," he said, "because you don't want to do it alone."
(336) 727-4081
@johndellWSJ
Be the first to know
Get local news delivered to your inbox!