The scene that Mark Brazil, the Wyndham Championship tournament director, witnessed at the RBC Heritage on Hilton Head Island in South Carolina last week was, to say the least, different.
Brazil wanted to see what a PGA Tour tournament would look like during a global pandemic with no fans, no sponsors and a bubble of about 500 people. It was more of a learning experience for Brazil as he tries to formulate what the Wyndham Championship will look like in seven weeks at Sedgefield Country Club.
While he didn't stay long, Brazil took plenty of notes and talked to PGA Tour players, caddies and officials gleaning as much information as he could.
It didn't take him long to realize the seriousness of what it will take to get inside the bubble during a tournament week.
"I got there on Tuesday at around 5 p.m., and the first thing I did was signed up for a health app that the Tour sent to me," Brazil said. "So I had to go through a bunch of questions there and put in my health profile. Then I had to go straight to a satellite building in Hilton Head and had the nasal swab test."
A little later, he learned his COVID-19 test was negative. His test was a 6-inch Q-tip inserted into the cavity between the nose and the mouth for 15 seconds.
"I did the test, and then I went to my house until I got the test results back and I got the results in about 40 minutes," Brazil said. "I was fine, and they gave me a wristband that said I had done the test so I was able to go to the course."
He spent most of Wednesday checking out what a PGA Tour tournament can handle with social distancing, no spectators, and plenty of wide-open spaces.
As the PGA Tour continues its reopening, no spectators will be allowed for the next three stops at the Travelers Championship in Cromwell, Conn. and the Rocket Mortgage Classic in Detroit and the Workday Charity Open at Muirfield Village in Ohio. However, that next week, July 16-19, at The Memorial at Muirfield Village, a limited number of fans will be allowed.
Wyndham is seven weeks away
The Wyndham Championship is scheduled for Aug. 13-16, and Brazil is hopeful that fans will be allowed to attend. He's also hoping that sponsors will be allowed, even if fans aren't.
But right now Brazil is waiting on Gov. Roy Cooper, whose Phase Two order during the pandemic limits gatherings at outdoor events to 25 people. The phase is scheduled to continue until at least Friday.
One thing is certain, Brazil says. Anyone going to the Wyndham Championship, whether spectators, workers or volunteers, will wear facial protection. 
"I'm glad the governor and Dr. (Mandy) Cohen are taking this seriously, but I can promise you we are not making any political statement about any of this," Brazil said. "But we are going to make sure that people are wearing facial coverings at the Wyndham Championship."
The Tour's Nick Watney last week became the first known positive case, and he withdrew before the second round Friday. Watney, 39, is in quarantine for 10 days in Hilton Head with the Tour paying his expenses. Watney tested negative on Tuesday when he arrived, the Tour said, but he started feeling sick and was given another test. According to the Tour, Watney is the only positive test among nearly 1,000 administered during the last two weeks.
Brazil, who talked with the Journal before Watney withdrew, said that the Tour is doing plenty of due diligence as it continues its season.
"I got to see a lot of the different things they are doing," Brazil said. "Obviously, the game has changed."
Brazil said some watching on TV might not notice the subtle changes.
"A good example is they didn't have courtesy cars," Brazil said. "They all had to rent cars, and the Tour felt safer that the rental car companies were disinfecting their cars before the players got them. They got their cars at the airport in Savannah and came to Hilton Head."
New protocols for golfers, caddies
The Tour is also encouraging golfers and caddies to limit interactions when they aren't at the course.
"They are allowing players to basically go to their hotels or houses that they rented and then to the course, and if they go to restaurants the tour asked that they get takeout," Brazil said.
During a weather delay, vans will pick up golfers and caddies and take them to the clubhouse.  But on Sunday at Hilton Head, that protocol changed. Each player and caddie had their own carts to get back to the clubhouse.
"Out on the golf course you don't see fans but you see a lot more carts," Brazil said. "Players and caddies had their own carts if there had to be an evacuation because of weather. The old way of doing it with crowded vans or whatever that would take players and caddies off the course aren't there anymore."
The last two Sundays, the winner has casually walked off the 18th green with a victory but little to no applause. Webb Simpson, a former Wake Forest star who won the Wyndham Championship in 2011, won his seventh PGA Tour title on Sunday night, but none of his family was there to celebrate. He and his wife, Dowd, have five children and on a normal tournament all of Simpson's children would have surrounded him after the victory.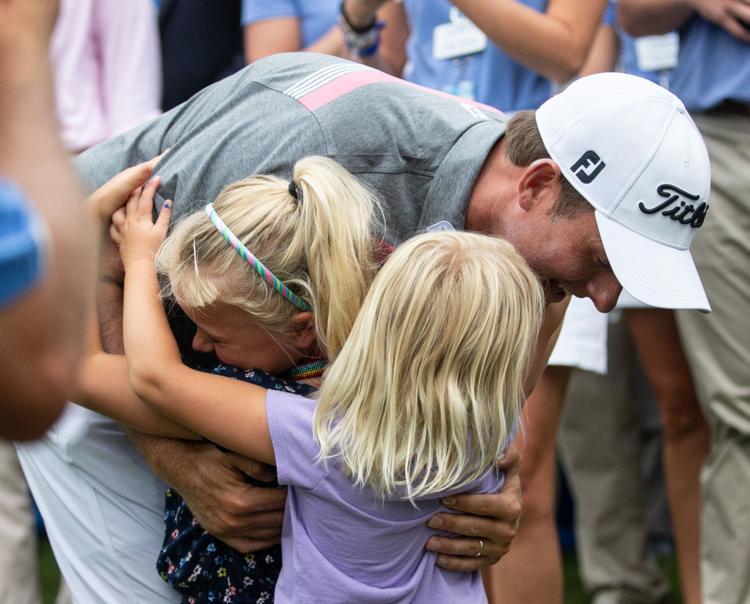 Making sure golfers and caddies are safe has been a priority for the Tour.
"I have to give credit to Andy Levinson (the senior vice president of tournament administration for the PGA Tour), and Eric Baldwin (the vice president of business development for the PGA Tour) and (PGA Tour commissioner) Jay Monahan and his team for taking a deep dive and implementing the safety protocols to keep their players and everybody around the tour safe," Brazil said.
The tournament that will be played right before the Wyndham Championship, the PGA Championship near San Francisco, will not be played with spectators. That announcement was made today by the PGA of America.
Government guidelines will be key
Brazil expects that the Wyndham will occur during Phase Three of Cooper's guidelines.
"We are working on it every day with the state," Brazil said. "I think they are doing a good job with their questions and their concerns. We've had a bit of a spike here lately (in cases), but I think the conservative approach is the way to go and we are taking that approach."
There's little doubt that the Wyndham Championship will look different in August, but at least there will be a tournament.
"I'm pretty optimistic the direction we are heading," Brazil said. "And it's good that The Memorial got the OK to have some fans and that tournament director is a good friend of mine, Dan Sullivan, and he did a deep dive on safety plan and we took a lot of the details of his plan and put it into ours."
Rob Goodman, who handles media relations with the Wyndham Championship, is awaiting guidance from the PGA Tour on who many journalists will be allowed to cover the tournament on site. The Irwin Smallwood Media Center isn't large, and Goodman usually credentials about 200 journalists.
"It will be far smaller than that," Goodman said. "Similarly, CBS usually comes in with a couple of hundred people, but they will have a smaller footprint as well."
Brazil not worried about field
In previous summers Brazil would be recruiting golfers at the various tournament stops. It's always a tough sell for the field in a normal season right after the PGA Championship.
This year's field, however, could be good because golfers were idle for nearly three months.
The Wyndham Championship is the final regular-season tournament in the FedEx Cup and the race for the Wyndham Rewards Top 10, in which the winner can pocket an extra $2 million.
All of that, however, is secondary because of the pandemic and what's happening elsewhere, Brazil said.
"There are a lot bigger issues in the world right now, and we get that," Brazil said. "But if our tournament can be a beacon of relief and some fun for the community, and even if everybody who wants to come to the tournament but can't they can still watch on TV and have some pride in Greensboro and the Triad and North Carolina, then that would be great."