Wilt Browning loved telling the stories about the athletes and teams he covered.
But he also loved winning the hearts of his readers, and his modest, early childhood days might have put him on the best path to do that.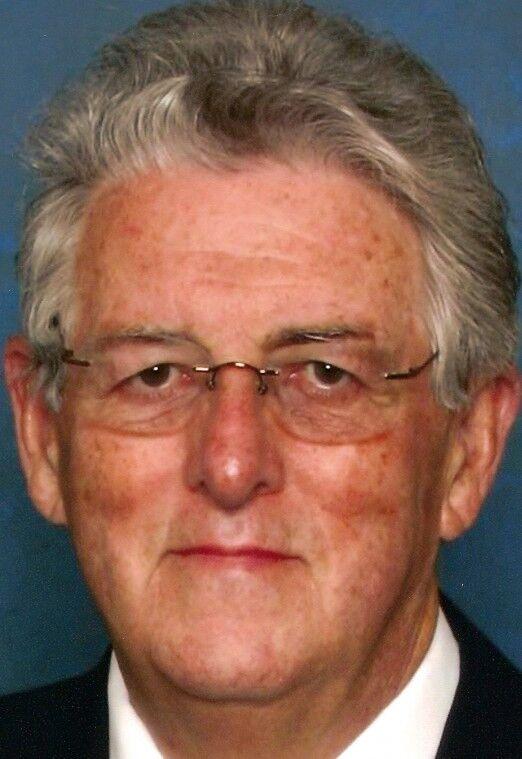 "It was his recollections and stories about growing up on the mill hill in Easley, S.C.," friend and former News & Record colleague Gary McCann said of Browning's book "Linthead: Growing Up in a Carolina Cotton Mill Village."
"If you go back and read that, you understand what made Wilt the writer he was and the person he was. He was bred on the fundamentals of Southern life, working hard and helping your neighbors and doing what was right."
Browning, a writer, columnist and sports editor for the News & Record from 1977 to 1996 as part of a 41-year career, has died in San Clemente, Calif. Browning, who was 83, had lived in Kernersville until a couple of years ago before moving to San Clemente, Calif.
"It was like he was talking to you when you were reading one of his columns," said Greensboro's Helen Ross, one of Browning's early hires in the late 1970s. "People related to him for that reason. That's what made him good at his job, in terms of getting people to open up to him. It was like he was truly interested in what people had to say. Then when he wrote it down, it was like he was in the room with you."
Browning was inducted into the state sports Hall of Fame in 2012, and he also was enshrined in the Guilford County Sports Hall of Fame. He received the state's sportswriter of the year award from the National Sports Media Association, based in Winston-Salem, five times, and the South Atlantic League also inducted him into its Hall of Fame.
Wilt Browning's farewell column in the News & Record was published on May 5, 1996.
"I don't even know how to tell somebody what I do except that when you and I sit down to do what we do, we want somebody out there to care," Browning wrote in his farewell column in 1996, relaying a conversation with the Charlotte Observer's Ron Green. "Don't you get the feeling that that happens – maybe not as often as we'd like, but it happens? There is nothing as wonderful as picking up the ringing phone and on the other end of the line is a reader who cried when we cried, who laughed when we laughed, who got angry with us and sometimes because of us, who got the point we were trying to make about how unimportant winning and losing at sports really is. It doesn't get any better than that."
Browning, who was in his early 80s, grew up in Easley, S.C., the son of textile mill workers. He married Joyce Cantrell, on Leap Day in 1956, and they were together for 62 years until her death in 2018.
Browning served in the U.S. Air Force then began his sportswriting career in Topeka, Kan., in 1957. He retired as sports editor and columnist for the Asheville Citizen-Times in 1998. In between he worked for papers in Greenville, S.C., Atlanta and Greensboro, as well as public relations jobs for the Atlanta Falcons and Baltimore Colts.
"A good columnist is also a good storyteller, and he was one of the best," said Brian Morrison, a retired ACC assistant commissioner of media relations who now works with the N.C. Sports Hall of Fame.
Among the numerous athletes Browning covered during his career was Hank Aaron, who died Jan. 22. Browning, who was the Atlanta Journal's first Braves beat writer after the team moved from Milwaukee to open the 1966 season, was with Aaron on the night that the Rev. Martin Luther King Jr. had been assassinated in Memphis, Tenn., in 1968.
Journalists who worked with and knew the News & Record's Wilt Browning share some of their stories and memories:
Browning, Aaron and the Braves were in Savannah, Ga., for an exhibition game. After learning the news of King's death and after Aaron had left the game, Browning found him on the team bus, where the two sat and shared moments of silence. Browning started to leave, but Aaron asked him to sit.
"Why did they have to do this, Wilt?" Aaron asked.
"I am keenly aware of what he means to this generation," Aaron went on to tell Browning. "When Jackie Robinson was breaking into the big leagues, Felix Mantilla and I were being dropped off at the Black hotel in Jacksonville and ordering food out of back doors, so it's difficult for me to understand why this man had to die."
Another time, Aaron privately upbraided Browning for failing to criticize him in the newspaper after his throwing mistake set up the winning run in a loss to Pittsburgh.
"If these records are going to mean anything, you have to hold me accountable," Aaron insisted. "You've got to let me have it. I am fallible."
Browning's stories, including those written and those shared directly, left their mark on Morrison.
"Wilt always called him Henry Aaron but he had some great insight into him and I loved hearing those kinds of stories," Morrison said. "I just think that Wilt was one of those writers who always looked at things as half-full instead of half-empty."
After retiring, Browning assembled a book on the history of sports in North Carolina. He used his contacts to help write and edit "Nothing Finer: North Carolina's Sports History And The People Who Made It." Sections of the book, published in 2014, were written by some of the state's finest sportswriters, many from Browning's era, including Caulton Tudor, Jim Sumner, Al Featherston, Rob Daniels, Lenox Rawlings, Lee Pace, Tim Stevens, Larry Keech and Bill Haas.
John Swofford, who recently retired as the ACC's commissioner, penned its foreword.
"Commissioner Swofford really liked Wilt," Morrison said, "and for that book we let him use any of the pictures that he needed. And the book goes into great detail and is a great read."
While Browning covered Aaron and so many star athletes and coaches, it was the readers who came first for him.
"And now, too soon, I come to say goodbye to the people who have given me reason to have spent so much time writing columns about sports, the people who read the News & Record," Browning wrote in his signoff from the News & Record.
"Though in most cases I never knew your name, dear reader, I'm gonna miss you.
"It's time to move on. Only a few days up the road now, I can see another door beginning to open. Hey! Hold that door for me, will you?! One lucky sonofagun is on the way!"
Staff writers John Dell and Eddie Wooten contributed.