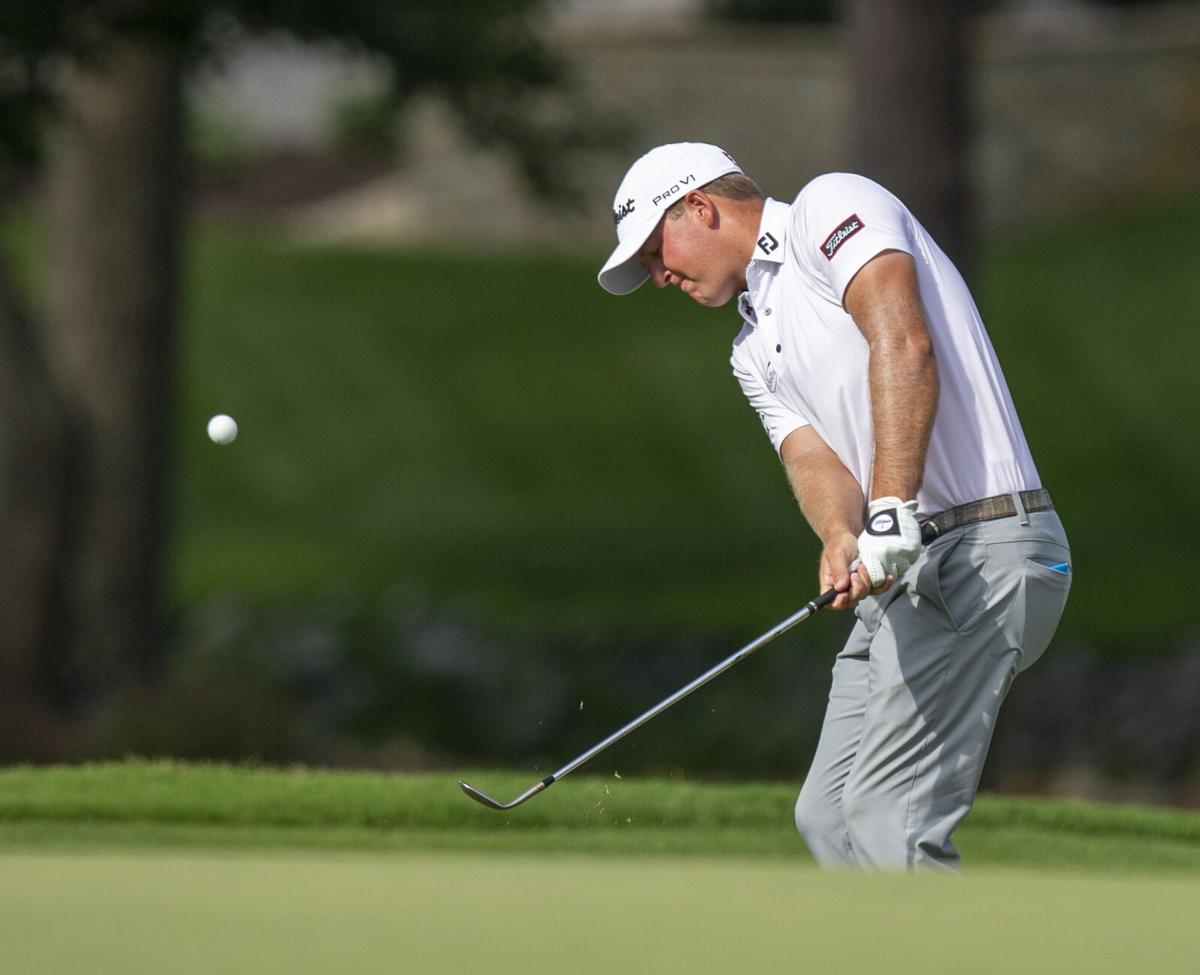 A look ahead to the Wyndham Championship's second round and a recap of the first round:
Three things about Friday
Bubble guys: Keep an eye on the golfers near the No. 125 line on the FedEx Cup points list. Friday is the final day to try to make a cut this season to earn enough points to qualify for the playoffs. Among the golfers below No. 125 are Zach Johnson (129), Shane Lowry (131), Matt Wallace (132), Sergio Garcia (134) and Chesson Hadley (136).
Weather woes: Spotty storms are predicted all weekend, so that would put a damper on course conditions. The weather horn blew just after 6 p.m. today as thunder moved in. If rain arrives in the afternoon, the morning wave would definitely have the advantage.
Former champions: Keep an eye on Patrick Reed, Webb Simpson and Ryan Moore, who have all won here before. They are inside the top 25 through the first round and know their way around this place. Sergio Garcia and Arjun Atwal are also in good shape and also are former champions.
Three things about today
No fireworks from Koepka: One of the big names, Brooks Koepka was one of the few who struggled in the morning wave. He shot a 2-over 72 and admitted to being tired and flat. He said he didn't consider taking this week off because he is 92nd on the FedEx Cup points list. He'll need a much better second round if he wants to play on the weekend.
Simpson's comeback: Webb Simpson found himself in an unusual position early in his round. He hit a ball out of bounds on No. 13 that led to a double bogey and was 2 over after five holes. But Simpson rallied to salvage at 66 and is tied for 13th.
Defending champ struggles: J.T. Poston, who won his first PGA Tour tournament last year at the Wyndham, didn't have that same magic. Poston didn't have a bogey for 72 holes in winning last year but shot 74 in his first round and is ahead of only five golfers in the field. The Hickory native bogeyed his second and fourth holes, then double bogeyed the seventh hole. Poston's bid to repeat took a big hit.
About the leaders
Very quietly Tom Hoge is having his best season, and it showed with an 8-under 62. He is sitting at 38th on the FedEx Cup points list and is familiar with Sedgefield. Back in 2015 he was tied for the lead here with some guy named Tiger Woods. Hoge, who was born in Statesville but moved with his family to North Dakota, had a chance at the magical 59 but couldn't birdie 17 and bogeyed 18.
Hoge spent only six months in Statesville before his family moved.
"I don't really have any memories of Statesville," he said, "but the Carolinas have been good to me. I always seem to play well here for whatever reason."
Meanwhile, Canadian Roger Sloan is at 178th on the points list and needs a big week to continue his season. Sloan's career-low 62 tied him for the first-round lead with Hoge and Harold Varner III. Varner's 8 under came early in the day, and Sloan and Hoge did their damage late.
How Sedgefield played
No surprise that birdies came rather easily on the Donald Ross layout. The winning score of the last four Wyndham Championships has been 22 under, 21 under, 22 under and 21 under. There was little wind and the storms stayed away until late, making it ideal for a low-scoring first round. The weather horn halted play at 6:08 p.m. with 33 golfers still on the course but only three of them within three shots of Varner, Hoge and Sloan.
What they're saying
Paul Casey on no fans at the Masters: "It's going to be surreal. I heard somebody mention are they going to pipe in roars, mentioned somewhere on the practice ground early? Part of me is very much looking forward to it and part of me is kind of, I don't know. It's so special…. What will it be like? I don't know. What will the experience be like? It's the one place I truly feel like the players are rock stars."
Billy Horschel on Sedgefield's rough: "The rough's a little bit different this year. I don't think it's as long. I don't think it's the length, the length's about the same, but every ball is going to the bottom, so I'm not sure if they did something to thin out the rough so the ball sits down more."
Brian Harman on the course setup: "Man, they always do such a good job here. The greens are always a relief to come back and putt on Bermuda. That's what I grew up putting on. And the rough's thick and we're going to get some rain, but the course drains pretty good."
Tom Hoge on playing with Tiger Woods in the third round in 2015: "Yeah, it was a zoo on Saturday, all the people kind of crammed in here, but just a lot of fun. It's a shame we can't have the same crowds here this year because the people really support this event well."
Roger Sloan on playing with Hoge and each shooting 62: "Tom and I go back to our Canadian Tour days, so it's nice to get reunited out there and share some good stories and memories. I think that puts you in a good frame of mind when one guy's making some birdies."
Be the first to know
Get local news delivered to your inbox!