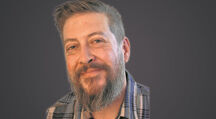 Feeling down in these uncertain times? I suggest pushing an old washing machine off a cliff. It's an exhilarating experience watching it tumble, crash and come apart, much like everything else in 2020.
Wait. That's not enough for a column. Let's go back to how I got to a cliff with an old washing machine.
It starts with an old washing machine. It was a reliable appliance for more than a decade, chugging away in the laundry room with nary a problem until problems started.
Thanks to instructional YouTube videos and enough mismatched tools to comprise what some might call a set, I replaced a lid switch and a couple of other doohickeys (that's a technical term) to keep it agitating and draining for a couple more years.
But the breakdowns became so frequent it was agitating and draining to fix them. It was time for another washer.
That meant getting the old washer out of the house, on the truck and down the road to the dump.
I called my youngest brother, High-Tech Sam, who, in addition to being a computer repair whiz, is a fine mover of large objects.
"Can you help me move an old washer?" I asked him.
"Yes," he said. "Can you help me move mom's old full-sized replica electric chair Halloween decoration back to my house?"
"Yes," I said. Additional details on that are for another column.
I wasn't looking forward to a trip to the dump. It's a confusing place. When I was a child and took weekly trips there with my dad, it was a wonderful place, perpetually on fire and teeming with people who were either there to shoot rats or sort through the few piles of garbage that were not on fire to find treasures.
I once saw a guy shut off a bulldozer, climb out on the tread, turn his back, relieve himself, climb back into the seat and return to pushing fiery garbage.
"That's the job I want," thought young Scott.
Then came stricter regulations — the rats and I aren't arguing tougher rules weren't needed — and the fires were extinguished. The dump became a sanitary landfill and then a transfer station for a much bigger landfill far away.
When I go there now, I always seem to violate some protocol, whether crossing the scales wrong or putting refuse in a pile meant for other refuse.
High-Tech Sam and I got vague directions from the attendant at the bottom of the hill, bumped along, took a left at the pallet stack and found ourselves in a wide, flat area filled with broken appliances bound for a recycling center.
We were at the pick-up area, not the disposal area. That was up on a steep embankment across the way. We watched as a large appliance came rolling out the back of a truck, falling 30 or 40 feet and crashing onto the pile.
"Oh, we gotta do that," High-Tech Sam said.
We found our way to the top of the hill and the guy in charge of throwing stuff off the cliff motioned us back until the rear-end of the truck was at the edge.
We put the tailgate down and pushed the old washer toward the cliff.
We shoved as hard as we could and watched the washer sail off the end, plunge downward, hit the ground with a roar and break into several pieces.
Sometimes, fellows just have to tear some stuff up.
The attendant grinned at us. It surely wasn't the first time he had seen two people get a kick out of destruction.
"That makes me want to go get another one and do it again," I said.
"That could get expensive," he said.
"This might be the job I want," thought old Scott.
High-Tech Sam summed the experience up this way: "It was the highlight of my year."
So, if 2020 has you down, my advice is to find an old washer and push it off a cliff — responsibly, course. I guarantee you will feel better.