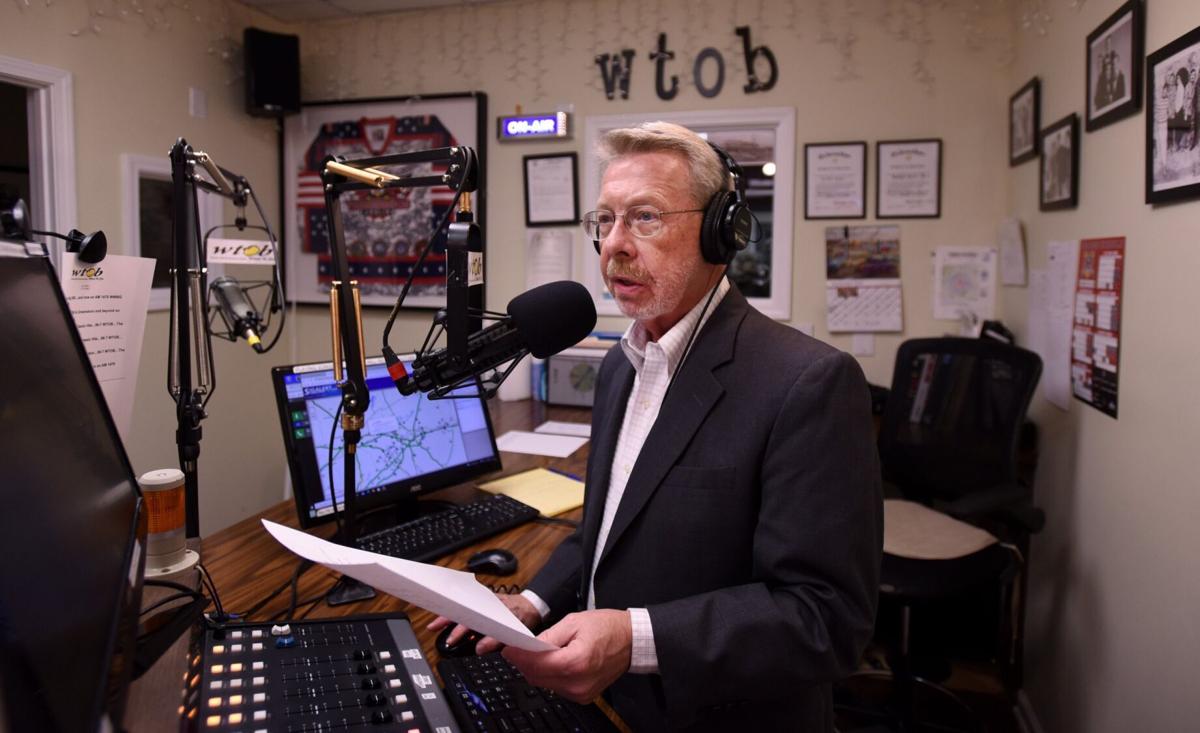 WINSTON-SALEM — Triad radio and television veteran Ralph Shaw says it's time for him to step away from the microphone after 49 years in the broadcast industry.
On Thursday, the 66-year-old Shaw will host his last show as the morning disc jockey at radio station WTOB in Winston-Salem and say goodbye to rising at 2:45 a.m. weekdays to get to work.
"I wanted to go out on my terms so I can enjoy life rather than be just maybe wheelchair-bound or housebound and not be able to do anything," Shaw said in his warm baritone voice.
He said he has a lot of takeaways from his career.
"I have gained a wealthy education on how people think, how people operate, how people relate to each other, what's important to people and what's not important to people," he said. "I've learned a lot about a lot of things, and I wouldn't trade that for the world."
During his career, he has had some interesting moments.
"I've had a microphone fall apart on me while I was doing a remote," Shaw said. "I've been flashed while I've been on the air."
As a longtime broadcaster, the biggest change he has seen in the industry has been in technology. For example, years back in radio, there were records, tape cartridges that had commercials and reel-to-reel tapes that had programs.
"You stayed pretty busy going from records to commercials," Shaw said. "Physically, you were moving all the time. Now, with digitized audio, everything is in a computer and you just have to pull files and drop them in, and start and stop them when you want to, rather than physically having to pull them from racks and shelves and put them on turntables and put them in cart machines and tape-recorder machines.
Shaw lives in Whitsett with his wife, Daphne, and their three cats.
'I didn't talk'
Shaw grew up in State Road, just north of Elkin.
He got his first taste at being a DJ at age 3 when his first cousin and his cousin's best friend showed him how to put records on a record player because they wanted to to have a picnic and dance in a family cabin in Alleghany County, off the Blue Ridge Parkway.
"I didn't talk or anything," Shaw said. "I was just playing the music and that kind of hooked me."
He began his career in the broadcasting industry at WIFM in Elkin in May 1972 while he was in his junior year at Surry Central High School in Dobson.
Over the years, Shaw has worked at radio and television stations in Elkin, Sparta, Mount Airy, North Wilkesboro, Winston-Salem, High Point, Greensboro, Charlotte, Burlington, Sylva, Eden, Asheboro, Lexington, Roxboro, Chapel Hill and Raleigh; Bluefield, W.Va.; and, in the Washington, D.C. market. He has also worked as a freelance reporter for several newspapers and in network news for ABC, AP, CBS, Mutual News, NBC, North Carolina News Network, NPR and UPI. He was a stringer/correspondent for the Winston-Salem Journal in the '70s and early '80s.
Shaw has been a disc jockey, program director, reporter, traffic reporter, news anchor, assignment editor, assignment manager, news director, account representative and station manager during his career.
He has been acknowledged for his work in news with more than 30 awards, including several honors for Journalist of the Year (The Roy Hardee Award) by the North Carolina Association Press Broadcasters and the Radio and Television News Directors' Association of the Carolinas.
Shaw said he is probably best known as the co-host of the "Brad & Ralph Show" on WKRR, Greensboro (Rock 92) from 1987—1991, where he also served as news director. His radio partner was Brad Krantz.
"We did and said things on air that you couldn't really do now," Shaw said.
He said the show gained a widespread audience and was one of the highest-rated shows in Triad history.
"Probably, the most fun job that I ever had was at WIFM when I was learning the business," Shaw said. "I got to do a little bit of everything. I got a great education in broadcasting from those years at my hometown radio station."
Leon Reece, retired former owner of Tri-County Broadcasting Co. in Elkin, gave Shaw his first break in the industry at WIFM.
"I saw in him an eagerness that was beyond what most young people came by and possessed," Reece said. "He had radio and broadcasting on his mind. There was no doubt about it, so I took advantage of that. He was a mighty fine employee and did a good job for us for a number of years. I was not surprised when he moved on up to other places and bigger towns."
Dave Solomon, president of Quality Radio Partners Inc. and owner of 101.5 and 107.7 Kool-FM in Greenville, S.C., said he was proud to hire Shaw at Oldies 93, WMQX in Greensboro (93.1 is now WPAW, 93.1 The Wolf, a country station).
"Ralph is the kind of broadcaster I never was but always dreamt of becoming," Solomon said in an email. "He is a traditional announcer with a fantastic voice who never misses or stumbles when reading any script. He's the kind of guy who is closer to Casey Kasem and Dick Clark than Wolfman Jack. Very professional in every way. Ralph was the genuine article, very rare."
Solomon is torn about Shaw's retirement.
"While I love to see him celebrate the end to an undoubtedly successful career, the business needs more guys like him," Solomon said. "Seeing one of them retire takes us one step further from good radio. Still, I must admit I do have some ideas to usurp his plans to retire fully."
End of an era
Shaw has worked in a variety of industries between broadcasting jobs.
"When you can't find a job in your chosen field, you've got to find something to put food on the table and pay the bills," he said.
Those jobs range from being a public relations specialist to courier to paralegal.
"I've done a lot of different things, and, like in radio, I learned from the ground up and I got very good at what I did," he said.
Still, Shaw always returned to broadcasting — his passion.
"I'm going to miss connecting with the listeners," he said. "I enjoy what I do. That's why I went back to being a DJ. I enjoy playing the music. The news aspect was fun, but it was serious most of the time. With music, it's something that people listen to for entertainment, and I have entertained for such a long time, especially outside of radio, doing private parties as a DJ and night clubs as a DJ. To me, this is an extension of me sharing my musical knowledge and my taste in music."
Solomon said that it's not common to find a person like Shaw in broadcasting.
"A man who loves the business and truly loves his audience," Solomon said. "Ralph is like one of those guys who does a job and throws in two hours of work for free. He is a broadcaster's broadcaster. It was my pleasure to work with him and to see him paint his art upon a canvas I could see. If I was in Greensboro today, I'd be at corporate trying to free up as much budget as I could to hire him again, whatever the number! I hate to see him leave the business, but I do hold my glass high in salute. The Triad just saw the end of an amazing era."