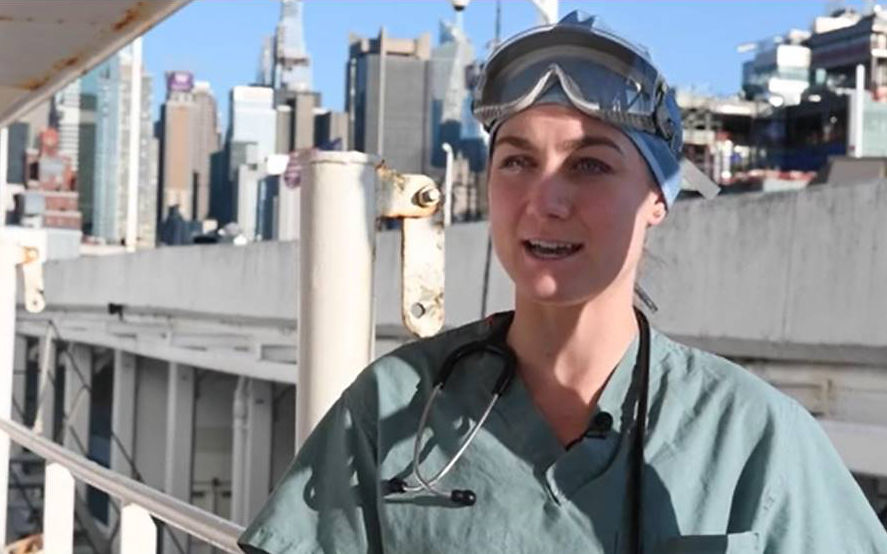 GREENSBORO — A U.S. Navy lieutenant who grew up in the city is helping battle COVID-19 on the front lines in New York.
Lt. Catharyn Nosek works as a critical care nurse in intensive care aboard the hospital ship USNS Comfort moored in the city's harbor.
She and other Navy doctors and nurses care for New York patients seriously ill from the global coronavirus pandemic.
"This is unlike anything we have ever seen before," Nosek said in a video released Tuesday by the Navy's Office of Community Outreach.
Nosek said the COVID-19 patients on the ship are sicker and require much more care than those she typically sees at Naval Medical Center Portsmouth in Virginia, where she is stationed.
"Luckily, this is what we train for, and we're absolutely ready for it," she said.
Nosek serves as a transport nurse on the USNS Comfort. While co-workers watch over her patients, Nosek brings more patients on board.
In the video, she describes how they move the patient from the ambulance onto a gurney, then physically push it up a quarter-mile ramp to the ship.
The ramp zigs and zags, all uphill.
"That's while we are pushing an adult patient on a ventilator with medical equipment," Nosek said. "It requires a lot of physical labor and a lot of communication to make sure that we do it quickly, but also safely."
As of Tuesday morning, doctors and nurses on the USNS Comfort had treated more than 120 patients, and discharged more than 50, a Navy spokesperson said.
Of the more than 120 patients, about half are COVID-19 patients, the spokesperson said.
Nosek, 29, was born in Baltimore and grew up in Greensboro. She is a 2015 graduate of Duke University's School of Nursing in Durham, a 2013 graduate of Appalachian State University in Boone and a 2009 graduate of Bishop McGuinness High School in Kernersville.
She had returned to the U.S. in fall 2019 after two years in Italy, where she was stationed at the Naval Medical Center in Naples.
In Greensboro, her parents, Cathy and John Nosek, have spoken with their daughter almost daily during her New York assignment.
They are both proud and concerned, her mother said.
"She has trained for this and wanted to be assigned to this," Cathy Nosek said.
The staff there is working 12-hour shifts, seven days a week, John Nosek said. Their daughter got a day off after working 23 days straight, he said.
"We just want all the crew and staff on the ship to remain corona-free," Cathy Nosek said. "As long as she is positive, we are positive and happy for her."
Earlier this month, the Navy said that a USNS Comfort crew member had tested positive for the coronavirus and was being isolated.
"Staying motivated and staying positive is definitely a core part of what we're doing right now," Catharyn Nosek said in the video.
"You have to keep a positive attitude to keep going. ... We're all very tired, but we know that we're accomplishing good here," she said. "The overall mission is to help the people of New York, and we're absolutely happy to be here to do that."
Contact Dawn DeCwikiel-Kane
at 336-373-5204 and follow
dawndkaneNR on Twitter.