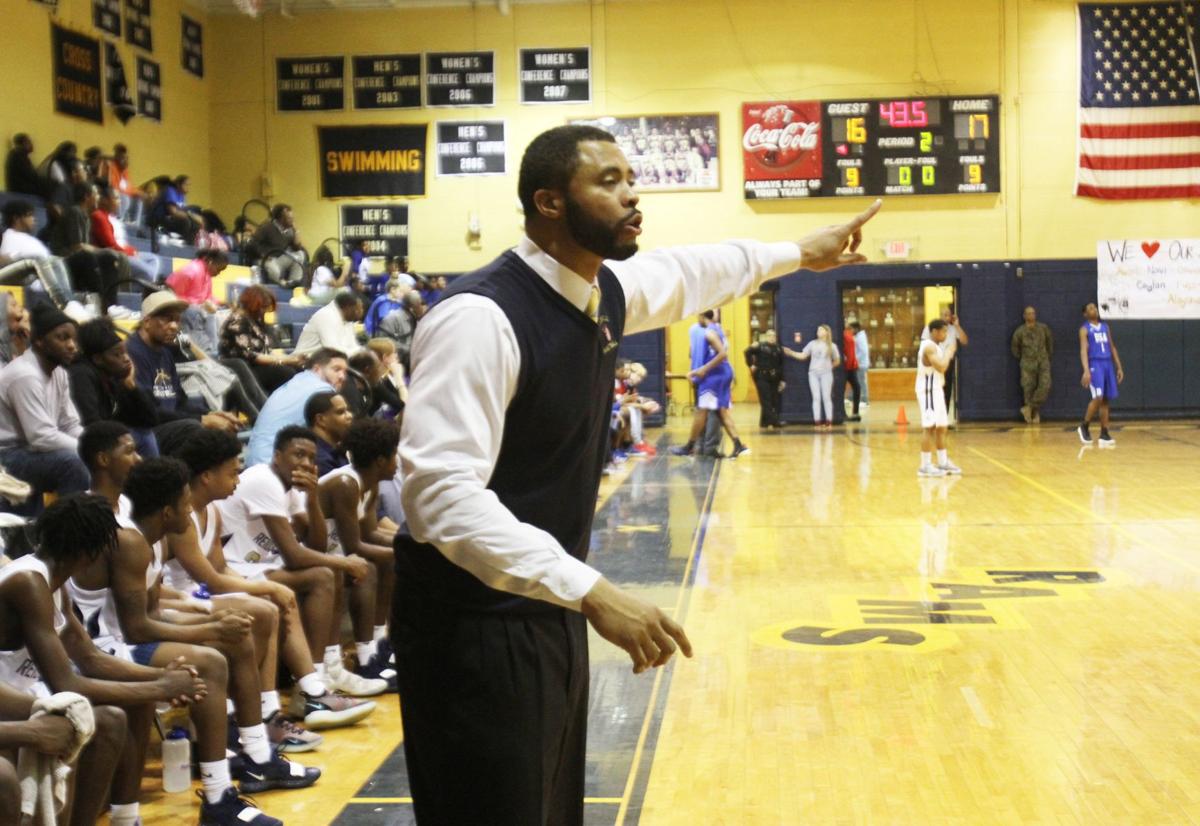 REIDSVILLE — Saying goodbye to basketball Coach Curtis Pass is much like losing a dad, the beloved late leader's players said Monday.
"Ever since I was young, he was always there for me … like a father figure. I could talk to him about anything. He was a second dad to me," said Ste'vian Harrison, 16, a rising junior and guard for the Rams boys varsity basketball team .
"He was a great man and he wanted you to be the best man you could be, on and off the court,'' said teammate Jiheem Hooper, 17, a rising senior and shooting guard.
"He was like a father to us. He was wise, and everything he said would inspire you. He wanted you to build and show your character,'' said Hooper, who broke away from football practice Monday with Harrison and several other basketball teammates to talk about the loss of their coach.
News of the Pass' unexpected death came Friday morning, stunning the school and the community.
Pass, 41, a basketball standout when he attended Reidsville, died as a result of apparent respiratory and heart-related complications, authorities said, though an official cause of death has not been determined.
"I could go to him with anything … talk to him about anything,'' said Cameron Peoples, 15, a rising sophomore point guard. "He made sure to check in on us and he pushed us to do better in every way … checking on our grades.''
Pass's ties to the basketball team extend to his family. Son Breon, a rising senior, is one of the top player. Daughter Bria was the team statistician in recent seasons.
Both children expressed love for their dad online, echoing Pass' signature slogan: "Trust the Process.'' The mantra was a reminder to young adults to have faith that steadfast hard work on the court and in the classroom would ultimately pay off.
"Pops I love you. Continue to watch over me, and like you always told me: Trust The Process,'' Breon Pass posted on Twitter.
Along with a Facebook video montage of her dad on the court, Bria Pass wrote, "Daddy Man, I love you dude."
Pass was a tireless and enthusiastic booster for his alma mater and students, Reidsville High staff members and friends said.
Working a third-shift job in addition to coaching, Pass often came to campus straight from work to "check in on the kids and make sure they were keeping up … to see if they needed anything,'' said Ivan Courts, who coached with Pass as an assistant for the junior varsity basketball team.
"If anything needed to be done, he would do it,'' Courts said of Pass, who also coached the track and cross-country teams and managed to teach driver's education and fill in as a part-time bus driver.
"We were like brothers,'' Courts said through tears, recounting how Pass led his own sons, Isaac and Ilai, on the court at Reidsville Middle and the high school.
And Pass was in tune with more than sports. He was keen to other people's needs, Courts said.
"He came up to me one day and said, 'Courts, I heard your son needs something.' Then he opened up his fist and gave me $250 for my son and said, 'Counts, we're family.' He touched people and reached us all."
Guidance counselor Lila Jordan said she was impressed with Pass' commitment to his players' academic excellence.
"He was regularly checking on the kids and their grades,'' Jordan said. "And he always had a smile on his face. He was a very loving person.''
His push for all of his student athletes to maintain high grades paid off. The boys varsity basketball and cross-country teams recently received recognition from the school system for high GPAs. The basketball team racked up a collective GPA of 3.5; the cross-country team, 3.7.
The mood at the high school was somber Monday as plans were made for Tuesday's tribute to Pass, a public viewing at the school's gymnasium where hundreds gathered in the afternoon to pay their respects.
The funeral is scheduled for 1 p.m. today at Covington Wesleyan Church, 3218 Vance Street Extension in Reidsville. Family visitation will begin at noon. Burial will follow the service at Benaja Mt. Zion Holiness Church of God. McLaurin Funeral Home is handling arrangements.
A 1995 graduate of Reidsville, Pass was an all-conference basketball standout for the Rams during his playing days and took the job as head basketball coach for the school in 2016.
"It's like a dream come true really. I've been coaching for the last 14 years, just learning and trying to build my resume,'' Pass said in a past interview of the chance to coach the Rams.
Pass guided the Rams to the postseason in all three of his seasons. After closing out his inaugural season with a 12-12 record, Reidsville improved to 20-6 in 2017-18 and 20-10 this past season. He compiled a record of 52-28 in those three seasons.
After graduating, Pass played basketball for Old Dominion University in Norfolk, Va., and later transferred to the University of West Georgia, where he has a place in the Wolves Basketball Hall of Fame.
He went on to join a European travel team and a summer pro league in Los Angeles before entering the coaching ranks about 14 years ago.
One of his first coaching jobs was as an assistant for former Reidsville head Coach Ron Parsons, with whom he led the Rams to the 2002-03 NCHSAA state championship.
"That guy could pick up a ball,'' Courts said, shaking his head in disbelief at the death. "He was a star.''
Susie C. Spear is a staff writer for RockinghamNow.com. Contact her at sspear @rockinghamnow.com or 743-333-4101.