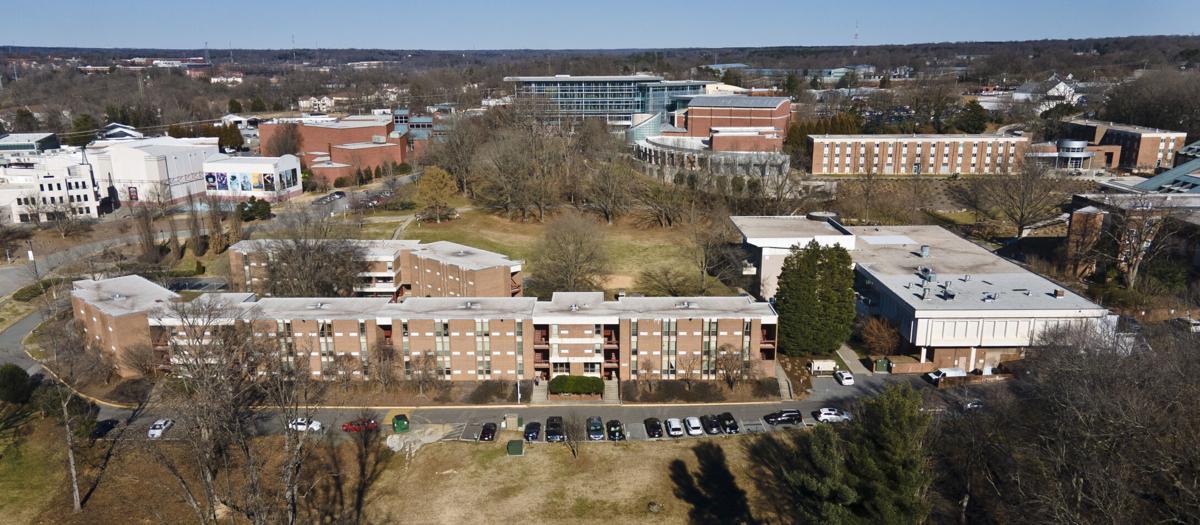 Seventeen former high school students at UNC School of the Arts joined a lawsuit Dec. 29, 2021 alleging that school administrators ignored and condoned a rampant culture in which faculty members sexually abused and assaulted hundreds of high school students from the late 1960s through at least 2012.
An amended complaint was filed in Forsyth County Superior Court and the total number of plaintiffs now stands at 56. The lawsuit adds five new individual defendants, all either former administrators or faculty members. Including UNCSA, the lawsuit names 30 defendants in the new action. The new defendants are Robert Besda, former assistant dean of the School of Drama from 1991 to 2013; Robert Borror, a former instructor; Mark Pirolo, a former instructor and administrator; Melinda Lawrence Weisler, an instructor; and Leslie Hunt, a former instructor and administrator.
Like the two previous versions of the lawsuit, the latest complaint alleges that the high school students felt they had no choice but to tolerate the abuse if they wanted to stay at the school and have a successful professional career. Faculty members and college students openly pursued high school students, the lawsuit said. College students at the Design and Production School, for example, flirted with high school dance students, calling them "jailbait," according to the lawsuit.
This is the second amended complaint since the original lawsuit was filed in late September. The first amended complaint was filed at the end of November. All the plaintiffs are former high school students who attended UNCSA between 1969 and 2012. The 2019 SAFE Child Act created some additional time during which abuse survivors can file suit. Attorneys are also planning to appeal a decision by a three-judge panel that found the section of the law allowing extra time unconstitutional in two cases, including one from Forsyth County. Those attorneys also represent the plaintiffs in the UNCSA lawsuit.
Gloria Allred, who is nationally known for representing sexual harassment and sexual abuse victims, is the lead attorney. Lisa Lanier and her law firm, Lanier Law Group, are also involved.
Katherine Johnson, a spokeswoman for UNCSA, did not respond immediately to a request for comment last week. UNCSA officials have previously called the allegations "deeply disturbing" but have said that they have implemented changes to prevent similar abuse.
But after recently-installed Chancellor Brian Cole had talks with students, school officials said UNCSA will do a review of existing policies in an attempt to address student concerns. School officials did not provide details about the review, which is scheduled to begin in January.
One of the plaintiffs is Blair Tindall, author of "Mozart in the Jungle." The book, which was made into an Amazon series, detailed her allegations of sexual abuse while she was a high school student at UNCSA, where she played oboe.
Also named as a defendant in the lawsuit is Stephen Shipps, a former violin professor at UNCSA. The lawsuit said Shipps, who was recently convicted of charges that he transported a 16-year-old girl over state lines in order to have sex with her, was a known sexual predator at UNCSA and was allowed to quietly resign. The lawsuit said UNCSA officials provided glowing recommendations that allowed Shipps to get a job at the University of Michigan, where he was later accused of sexual misconduct with students.
The lawsuit contains new allegations against Shipps. The complaint filed in November alleges that Shipps sexually assaulted a 17-year-old girl in 1988 both at his home and his office and then had a colleague, Jerry Horner, take the girl out of state under the guise of getting her violin lessons with his wife. Instead, the lawsuit said, Horner raped and sexually assaulted her over a weekend in Chicago. Horner told the girl she shouldn't be worried about getting pregnant because he had had a vasectomy, the lawsuit said.
In 1982, the lawsuit filed Wednesday alleges, Shipps raped a 16-year-old girl he had convinced to move into his house under the pretense of giving her violin lessons. He promoted the girl to head of second violin but the girl refused allowing Shipps to sexually assault her again. The lawsuit said Shipps continued to hug and grope the girl during the school year, and Shipps stopped giving the girl lessons.
She complained to the school's dean, and when she returned from holiday break, she was asked to go to Shipps' office, where the lawsuit said Shipps "began throwing chairs and paper and push (the girl) against the wall and threatened to slap her." Shipps also tried to rape the girl but the girl dropped to the floor and refused to move. The lawsuit said Shipps had the girl thrown out of UNCSA.
The lawsuit alleges Shipps assaulted another 16-year-old in 1986.
The lawsuit also contains allegations that Borror, a trombone teacher, raped a 16-year-old student in 1980 at an off-campus party. Hunt is specifically accused of telling a female student that she was a crybaby when she accused another faculty member of sexual assault.
The lawsuit also includes allegations of sexual misconduct and sexual assault against several other former faculty members, including Phillip Dunnigan, Robert Murray, Gyula Pandi, Ronald Bruce Moss, Kelly Paul Maxner, Nigel Burley and late dance teacher and famed ballerina Melinda Hayden. The lawsuit also contains sexual abuse allegations against Robert Carlton, who worked as a security guard at the school.
Numerous former students accuse Hayden of being verbally, physically and sexually abusive toward them, touching high school dancers inappropriately and telling them over and over again that they needed to have sex in order to become better dancers. In the lawsuit filed in November, her husband, Dono Coleman, who is also dead, is accused of inviting high school students over to the couple's house, plying them with alcohol and coercing them to get naked. He had two students who were dating each other have sex in front of the other students, the lawsuit said.
The lawsuit also alleges that Coleman, who also took his clothes off, had the students watch pornography and would invite one of the female students to come into his bed. He told one female student that he would perform oral sex on her for her 16th birthday. The student refused. At least two female students reported the abuse to administrators and filed a report with the Winston-Salem Police Department. Coleman was never charged but was banned from the campus.
According to the lawsuit, Coleman continued to come to campus and reportedly said nothing could be done because "I own this school."
Maxner is accused of making several female high school students pretend to perform sexual acts and humiliating them when they refused. He is alleged to have been verbally and emotionally abusive to students.
The lawsuit also includes fresh allegations against Richard Kuch, a former assistant dean for the School of Dance, and Richard Gain, a former dance instructor. All three lawsuits contain allegations that administrators knew the two men were sexual predators who groomed and sexually assaulted high-school age male and female students, sometimes taking them to their property in East Bend, which was known on the school campus as the "F*** Farm."
Kuch, who has since died, and Gain, who is still alive, are both accused of making inappropriate sexual comments in their classes and touching students inappropriately.
According to the lawsuit, Dean John Sneeden, who is dead, and Pirolo "were fully aware of the sexual abuse of young boys by Kuch and Gain." They approached Robert Lindgren, who was dean of the School of Dance, about a student who Kuch and Gain allegedly abused. The student had withdrawn from the school after a nervous breakdown, the lawsuit said.
"Lindgren replied that the boys had better start getting used to such conduct because that's the way it was in the dance world," the lawsuit said. Sneeden and Pirola did nothing further, the lawsuit said.
This isn't the first time UNCSA has faced a lawsuit. One of the plaintiffs, Christopher Soderlund, sued the school in 1995, alleging that school officials ignored the sexual abuse he endured from Kuch and Gain. The lawsuit was eventually dismissed due to the statute of limitations at the time.
School administrators convened a commission to investigate the allegations of widespread sexual abuse. In November 1995, the commission released its findings, saying it had found "no substantial basis" for believing that the school's chancellor and top administrators had "failed to act properly" on sexual abuse allegations.
The commission concluded that reports of widespread sexual misconduct between teachers and students had been exaggerated, according to a Nov. 10, 1995, article in the News & Record of Greensboro.
The Charlotte Observer cited unpublished documents that showed that 24 staff members were accused of harassing or having improper relationships with students and that out of the 13 who were still working at the school in 1995, 12 of them continued to work on the campus several years afterward. Five accused faculty members told the Charlotte Observer that they were never told about the accusations and they were never given an opportunity to defend themselves.
A Winston-Salem Journal investigation published on Aug. 13, 1995, quoted former students and faculty who said that the arts school did not have procedures in place that would have helped make students feel they could report these allegations.