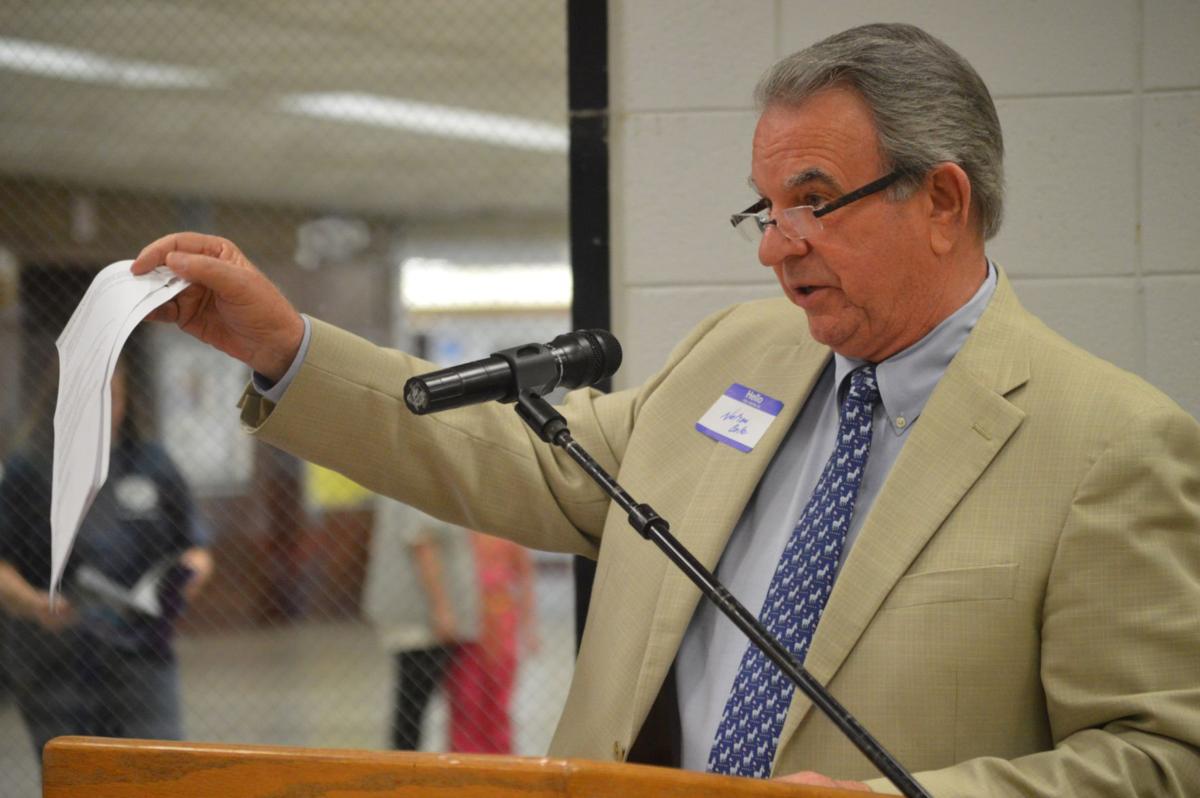 WENTWORTH – Royce Richardson, chairman of the Rockingham County Board of Elections, resigned Thursday in the wake of a tumultuous past six months for the board.
Richardson, a Democrat from Madison, announced his resignation in a letter to Karen Brinson Bell, executive director of the North Carolina Board of Elections in Raleigh. He ends his role, effective immediately, the letter said.
Richardson could not be reached for comment before press time.
Richardson became the second member of the board to resign since fellow Democrat Jeff Parris of Reidsville abruptly left his post on the eve of the November presidential election.
The state tapped Nelson Cole, a Reidsville Democrat and former member of the North Carolina General Assembly, to fill Parris's vacated seat and round out the five-member board.
Bell was not immediately available for comment about when the state will announce a replacement for Richardson.
In a year already stacked with uncommon challenges from the pandemic, the county board navigated a cascade of problems.
On Sept. 29, the board voted 4-1 to fire the elections office's senior deputy director Amy Simpson of Reidsville. Richardson was the sole board member to vote against her termination.
Simpson for months had worked short-staffed to prepare for the November election and her ouster left the elections office vulnerable with just one staff member and a handful of temporary workers to handle the rigors of a presidential race, board members have said.
Shortly before the election, the board hired Jan Odell, a seasoned former director of the elections office, to come out of retirement and run the office.
By late October, with early voting in full swing in Rockingham County, poll workers at one of the county's busiest sites came down with COVID-19. Reidsville's polling site at the Salvation Army on Barnes Street was forced to close as several workers took ill and others were compelled to quarantine because of exposure.
The county board scrambled to find replacement workers when back-up staffers were reluctant to come in during the time when the county's COVID-19 infection rate approached a relatively high 10%.
The NAACP and the county's Democratic Party responded by asking the state elections board to intervene in order to gaurantee the polling site would reopen and that the board would be prepared for the general election.
 A Rockingham County District Superior Court judge ordered the site to reopen after a day. And finally, Richardson and his fellow board members were able to find enough staff to reopen the polling place's doors.
Then in January, Simpson filed a federal lawsuit against the board and two of its members, alleging they violated her First Amendment rights and state law by firing her in September.
Simpson's complaint alleges she was wrongfully terminated after board members Toni Reece and Bonnie Purgason acted to have her discharged, based on a private conversation Simpson had with her doctor about placement of a sign outside his office.
Simpson, who is seeking a jury trial, asks in the lawsuit for $100,000 in punitive damages, both from the board and from Reece and Purgason, $25,000 in compensatory wages for time she performed the duties of interim elections board director, reinstatement as senior deputy director, and further damages to be awarded at the discretion of a jury, including legal costs.
Board voted to return $8,100 grant intended for poll worker bonuses
In February, the board voted 3-2 to return nearly $8,100 in grant funds earmarked for use by N.C. county elections boards for pollworker bonuses.
Indeed, the state elections board dispersed $8,078.28 to Rockingham County— private grant funds from the Center for Tech and Civic Life, or CTCL. The organization made roughly $2 million in bonuses available to the state elections board to be divided among N.C.'s 100 counties, stipulating the money be used expressly for poll worker bonuses.
The Rockingham County grant would have put an extra $13.65 in the pockets of one-stop polling place workers for each day they showed up to work, whether they toiled for one day or 18, officials said. The exact number of one-stop poll workers was not available, but the elections board hired around 215 poll workers overall to staff the election.
When the matter came up for discussion during a Feb. 16 county elections board meeting, Purgason and Reece argued it was inappropriate to award bonuses to poll workers while other county workers did without a financial boost.
Purgason suggested the money might be used to buy security cameras, instead.
Ultimately, Justin Thacker, the county's deputy director of finance, told board members the money had to be used for poll worker bonuses or returned to the state elections board. In turn, the state board would return funds to the CTLC, Thacker explained.
But Purgason and Reece were adamant that the money not go to poll workers.
"I'm not in favor of this … we have so many people in this county that have worked diligently through COVID and they haven't received any kind of bonus,'' Purgason said.
" … There are other employees that have spent many more hours working diligently during COVID, such as EMS, and I do not think they got bonus pay,'' Reece said.
"I would like to make a motion that we send this money back to the grantor, and not provide for these bonuses,'' Purgason said.
Reece seconded the motion. Member Leanna Lawson, a Ruffin Democrat, voted with Purgason and Reece in the 3-2 decision against Cole and Richardson to send the funds back.
The vote made Rockingham County one of only two counties in North Carolina to refuse the funds. The name of the other county that declined the grant money was not immediately available.
But the decision to send money back rather than reward hard-working elections staffers defies logic, Cole said.
"This was money from outside the state, and outside the county, and I don't know how or why you would refuse it under any conditions. I didn't understand it then and I don't understand it now,'' Cole said.
"(Poll workers) are a group of dedicated citizens,'' Cole said. "And they're dedicated to free elections and I feel they would have appreciated it.''
The move to send funds away was an affront to elections staff, said Wally White, acting chair of the Rockingham County Democratic Party.
"It is extremely disappointing that members of this community, who sit on the Board of Elections, would send money back to a private foundation rather than give their neighbors a bonus for keeping our polls open during a pandemic,'' White of Eden said. "These are hourly workers, who could've surely used the money, and it would've cost taxpayers nothing."