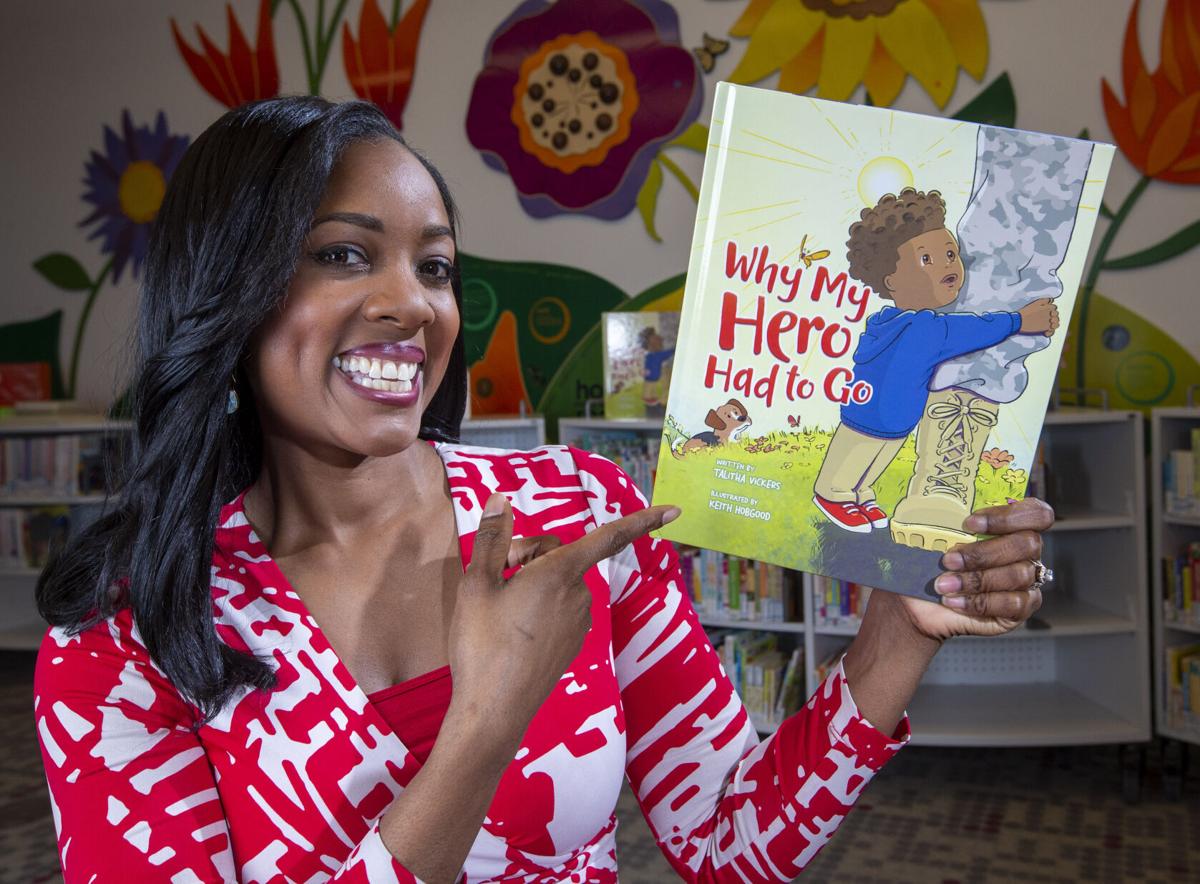 When WXII anchor Talitha Vickers began the process of getting her children's book published, she had no idea the obstacles she'd face. Navigating the traditional path of literary agents and big-name publishers, Vickers met resistance to the story of a young Black boy contending with his father's military deployment. In the most extreme case, a literary agent suggested she lighten the skin of the main character on the book's cover to give it broader appeal.
"That wasn't something I was willing to compromise on," Vickers says. "Because his skin is the same complexion as mine, and I wanted little boys and girls to see themselves in him."
Instead, Vickers opted to self-publish her book, "Why My Hero Had to Go," staying true to her vision for the story.
Inspired by her nephew's experience with his father's military deployment, Vickers wrote "Why My Hero Had to Go" to help children in similar situations understand a parent's absence.
"My nephew struggled so hard to grasp the concept of where his dad was, no matter how hard we tried to paint the picture," she says. "I knew my nephew couldn't be the only one struggling with this."
Vickers says the book isn't just for military families. She says her nephew experienced teasing because of his father being away, so she hopes the book will help other children understand what life is like for military families during deployment.
"It teaches them about courage during a time when you really have to be brave," she says. "And it also teaches about diversity and inclusion and what other families are going through — it peels back that curtain and reminds us that we're all in this together."
Those lessons of diversity and inclusion are a major part of Vickers' mission with this book. Growing up, she says she rarely found books with characters who looked like her, so she wanted to create something that children of color could find themselves in, while at the same time highlighting themes of diversity for all children.
"It opens up the conversation so that children can see other children who look like them or may not look like them," she says.
Vickers worked with a local illustrator, Keith Hobgood, to bring her vision to life.
"I couldn't have done it by myself by any means," she says. "I was intentional with our illustrator — he's local with Out of Our Mind Animation Studios in Winston-Salem. He is the magic behind this book. The story is impactful, but he took my words and gave them life with these incredibly vibrant illustrations."
Finding Hobgood was part of an eight-year process to bring this book to publication. On top of a demanding television news job, Vickers also is the mother of twins, so writing, researching and producing the book happened late at night and during stolen moments from her hectic schedule. She took her time, perfecting every detail to create a book that would hold its own alongside traditionally published books.
"I wanted this to be a really solid book," she says. "Not just the story, but the illustrations and how it looks, so that it can stand next to a Penguin or Scholastic book on the shelf."
So far, Vickers has received a lot of interest in "Why My Hero Had to Go." In addition to being available on her website, talithavickers.com, the book is carried online by Amazon and Barnes & Noble, as well as by Bookmarks in Winston-Salem and in Forsyth County libraries. And after all the challenges in bringing this book to life, she hopes her story of refusing to give up on this dream speaks to others facing similar obstacles.
"Doors closed numerous times for me, and people even wanted me to change my book to fit their narrative and their views, but 'Why My Hero Had to Go' is a reflection of me holding true to my passion for writing and my dream of helping children of all backgrounds," she says. "Even when it looks like every door is closing ... do not quit."